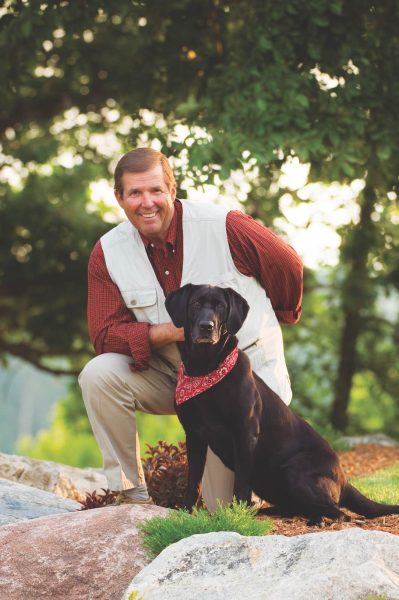 Ron Schara is the recipient of the 2022 Greenlee Professional Achievement Award, which recognizes a Greenlee School graduate who has demonstrated leadership, impact and achievement in advertising, journalism and mass communication and/or public relations.
Schara's story proves dreams do come true.
After graduation from Iowa State, Schara's first job was with the South Dakota Game, Fish, and Parks department as editor of the Conservation Digest magazine. Late in 1967, he was asked to join the Minneapolis Tribune as the paper's first full-time outdoor editor, a post he held for 29 years.
During this time, he was also the co-host of an outdoor radio show on WCCO for more than 10 years, but it was his love of storytelling and dabbling in outdoor television programming that prompted him to create a new television program called Minnesota Bound on the NBC affiliate KARE-TV in 1995. Ron Schara Productions was born. He employed 17 videographers and editors and went on to create other television shows on the Outdoor Channel, ESPN, The History Channel, The Discovery Channel, Bally Sports Networks and others.
Schara has received countless regional Emmy awards, numerous writing and television awards and honors from multiple conservation organizations.
A lifetime member of Ducks Unlimited, the National Wild Turkey Federation, the Minnesota Deer Hunters Association, the Rocky Mountain Elk Foundation and Pheasants Forever, he has been inducted into the National Freshwater Fishing Hall of Fame, the Minnesota Fishing Hall of Fame and the Broadcaster's Hall of Fame.
He has authored several books, including "Muskie Mania," "Minnesota Fishing Guide" – which is still in print and has been since 1975 – and "Ron Schara's Minnesota: Mostly True Tales of a Life Outdoors" was published last year by the Minnesota Historical Society.
Most recently, Schara helped create a statewide fishing organization, known as MN-FISH, to represent anglers in the Minnesota Legislature and DNR fish management. He was elected to serve a second term as president.
His popular Minnesota Bound sidekick, a black Labrador by the name of Raven, helped Pheasants Forever raise more than $1 million to acquire thousands of acres of wildlife habitat. Schara has had three Raven's over the course of his television years. The latest passed away in 2020.
Schara resides in Minnesota, and you can still catch Minnesota Bound on air along with his other shows: Backroads with Ron and Raven, The Flush, Destination Polaris, and Due North Outdoors.