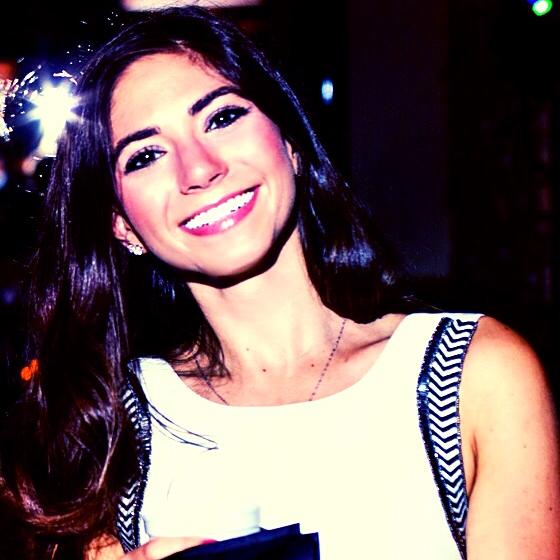 Evonna Sweis' passion for advertising and broadcast media began before she was a teenager. Sweis knew in about the sixth grade that she wanted to work for the Leo Burnett Group, and when it came time to pick a college, Iowa State was her No. 1 choice.
"Choosing Iowa State was a pretty easy choice," Sweis said. "It had so much to offer and such a great advertising program that is seemed like the perfect fit for me, and it was."
Sweis' four-year ISU career included a packed schedule. Aside from classes, Sweis spent time as the advertising design editor for Trend magazine, member of the features committee for Ethos magazine, Student Admission representative, co-chair for Freshman Council, team leader for Destination Iowa State and marketing and production intern for Iowa State Athletics.
"Cyclones.tv was the best internship experience for me," Sweis said. "I loved sports. I loved getting the opportunity to really own my creative liberty and creative freedom. … It really helped me find my passion."
After graduating from Iowa State, Sweis was quickly recruited by Daktronics for freelance work broadcasting live games and events.
In April 2013, Sweis left Ames to become associate producer at the Leo Burnett agency in Chicago. "I'm producing [radio, billboards and commercials] for Burnett, so producing is a pretty all-encompasing term," Sweis said. "It's anything from helping choose directors, casting, basically overseeing your voice-over sessions, your post-production sessions. You are your liaison between the creative and the account team. It's basically about harvesting and executing the creative idea.
"There is nothing in the world greater than being able to take a step outside of work, and maybe your relaxing at home or your just riding in a cab," Sweis said. "But hearing one of your radio spots or driving past a billboard or seeing one of your television spots on TV and being able to say, 'That's my commercial,' … it's very cool."
Outside of work, Sweis has plunged into volunteerism with the Chicago Advertising Federation, serving as its director of young professionals. She plans programs and hosts events for these members to help them network, learn about the profession and serve their community.