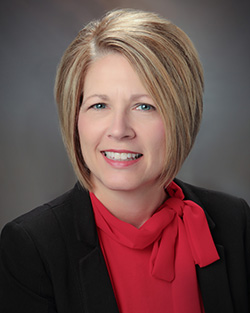 Shannon Latham ('93) is co-owner and vice president of Latham Hi-Tech Seeds of Alexander, Iowa. This third-generation, family-owned seed company was founded in 1947 by Willard Latham.
Prior to joining Latham Seeds full time in January 2007, Shannon operated her own communications/public relations business. She also has worked in an advertising agency and served as a state lobbyist for agribusiness.
Shannon earned her MBA from the University of Iowa with an emphasis in Marketing. She also earned a Bachelor of Science degree from Iowa State University where she double majored in Ag Journalism and Public Service & Administration in Agriculture.
Active in professional organizations, Shannon recently served a three-year term as chair of the American Seed Trade Convention (ASTA) Communications Committee and remains an active committee member. She also is a board member for the Seed Science Foundation.
Shannon is passionate about agriculture literacy and encouraging young people to pursue careers in agriculture. She puts her passions into practice at her Enchanted Acres pumpkin patch in Sheffield where she plans weekly fall events and blogs all year long. For her efforts, Shannon was named to the FarmHer Hall of Fame in 2016.
In their spare time, Shannon and her family enjoy cheering on the Cyclones. They're season-ticket holders for both Iowa State football and basketball. As avid travelers, the Lathams enjoy following Iowa State teams to watch post-season play including football games and NCAA tournament appearances.