Strategy for success
Ashley Kirkpatrick, senior in advertising, and Lindsey Moor ('18 public relations) were the first runner-up team in the Washington Media Scholars Foundation's Media Plan Case Competition in June.
The duo was one of six teams to present a media plan for a multimillion-dollar arts funding promotion, including strategies to increase funding, infrastructure and attendance for a fictional city's cultural association.
While in D.C., they also visited agencies, political consulting firms and media outlets. Associate Professor Jay Newell organizes Greenlee teams to participate in the annual competition.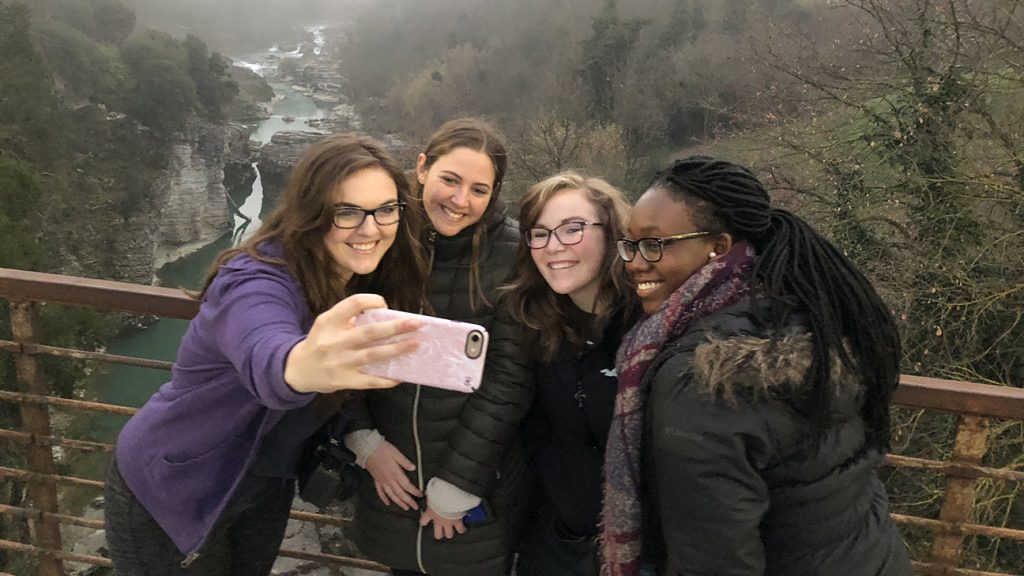 Improving smartphone photography skills
Relying on the idea that "the best camera is the one that you have with you," a new class shows students how to make better photos with their smartphones.
Associate Professor Dennis Chamberlin proposed the course after seeing a growing need for journalists to illustrate their own stories. He led the first iteration of the class for students studying abroad in Urbino, Italy, in spring 2018. Students posted their photos on Instagram using the hashtag #cyclonesinurbino18.
In fall 2018, Fundamentals of Mobile Photography was offered online and covered the basics, including lighting, composition and image-editing software.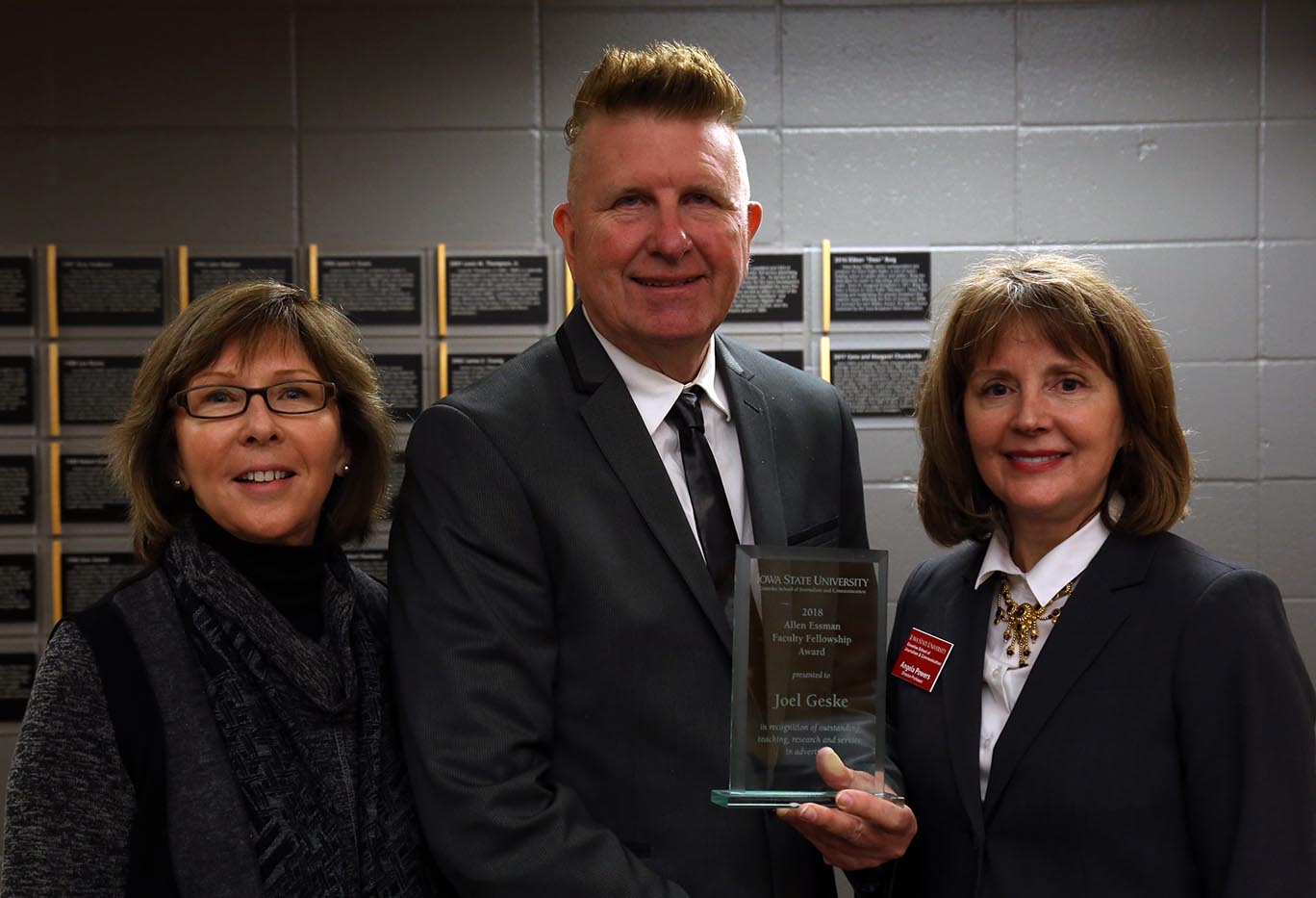 Joel Geske earns Greenlee's first named faculty fellowship 
Associate Professor Joel Geske is the first recipient of the Allen Essman Faculty Fellowship made possible by Denise Essman ('73 marketing). The fellowship—the first of its kind at the Greenlee School—honors a faculty member who has demonstrated excellence in advertising and/or public relations education. 
Denise Essman, who is a Greenlee School Advisory Council member and longtime supporter of Iowa State University, established the fellowship in honor of her late husband, Allen, who was an instructor in advertising and photography at the Greenlee School from 1969-1972. He passed away in 2010 after a distinguished career in advertising.
Allen K. Essman ('69 psychology, '72 M.S. journalism and mass communication) was a copywriter for Meredith Corp. and Creative Director for Wesley Day Advertising prior to partnering with Denise, in 1977 to establish Essman/Associates, an integrated marketing communications company, and Essman/Research, a qualitative and quantitative research firm in Des Moines.
"Allen Essman was very well-respected in the advertising community, and I'm honored to receive this fellowship in his name. I also really appreciate the opportunities this support offers. These types of gifts really let the school go beyond everyday curriculum and provide enrichment to faculty who can bring this knowledge back to students," Geske said.
As part of the fellowship, Geske is learning about virtual reality and 360-video production along with ways to implement them in the classroom.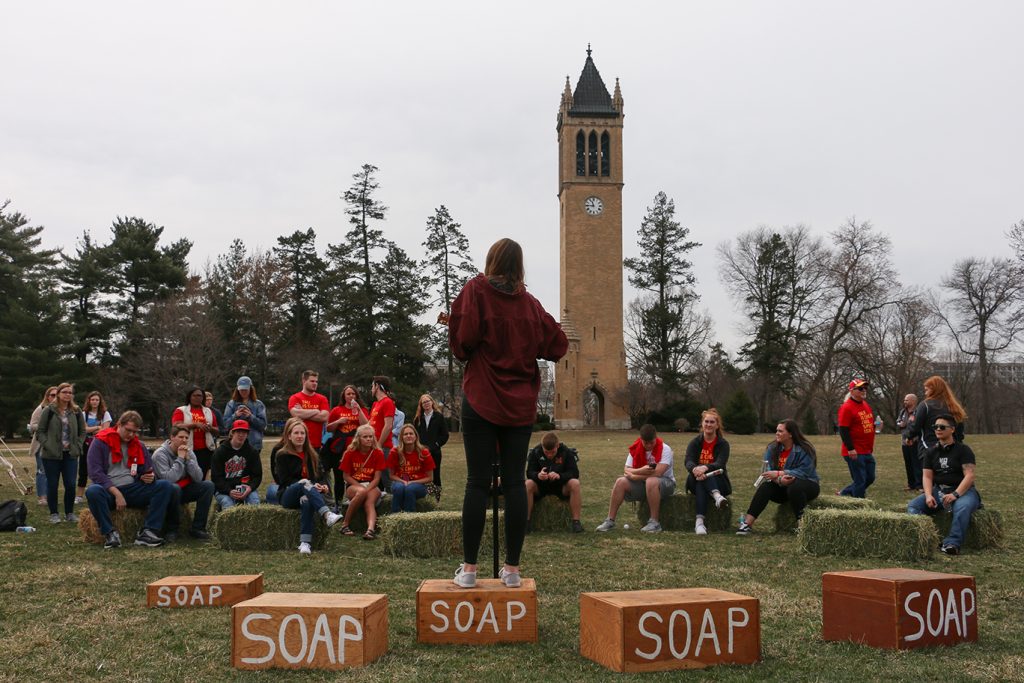 Save the Date
Join us for the 17th annual First Amendment Days celebration in April. For a schedule as details become available, visit greenlee.iastate.edu/fad.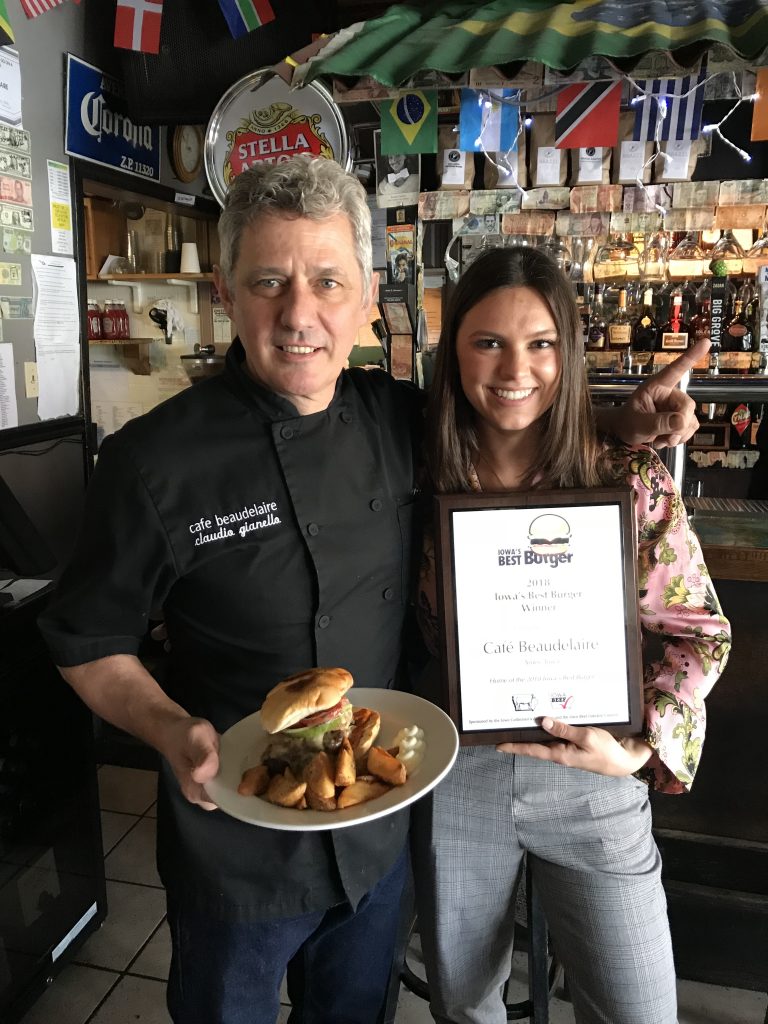 Campaigning for Iowa's Best Burger
Café Beaudelaire, a Brazilian-inspired Campustown staple, secured the title of "Iowa's Best Burger" for 2018 with the help of students in Senior Lecturer Erin Wilgenbusch's spring 2018 Advanced Public Relations Campaigns (PR 424) course.
PR students Lexi Romitti, Audrey Nelson, Alfred James Spaulding, Harrison LaGambina and Maddie Hocking developed a campaign that would increase awareness of the restaurant and bring in new customers.
When the Iowa Cattlemen's Association and the Iowa Beef Industry Council began accepting nominations for best burger, the students channeled their efforts on the competition. They conducted research, planned "Burger Bash" events and created flyers and social media content to earn votes from the public. With support from their customers, Café B advanced to the taste-testing round. Their hand-made patties won over judges.
Required of all PR majors, the campaigns course gives students a hands-on opportunity to develop a relationship with a client. "This class has prepared me so well for the future," Romitti said. "It really gives you a lot of information on just knowing and being ready for real-world experiences."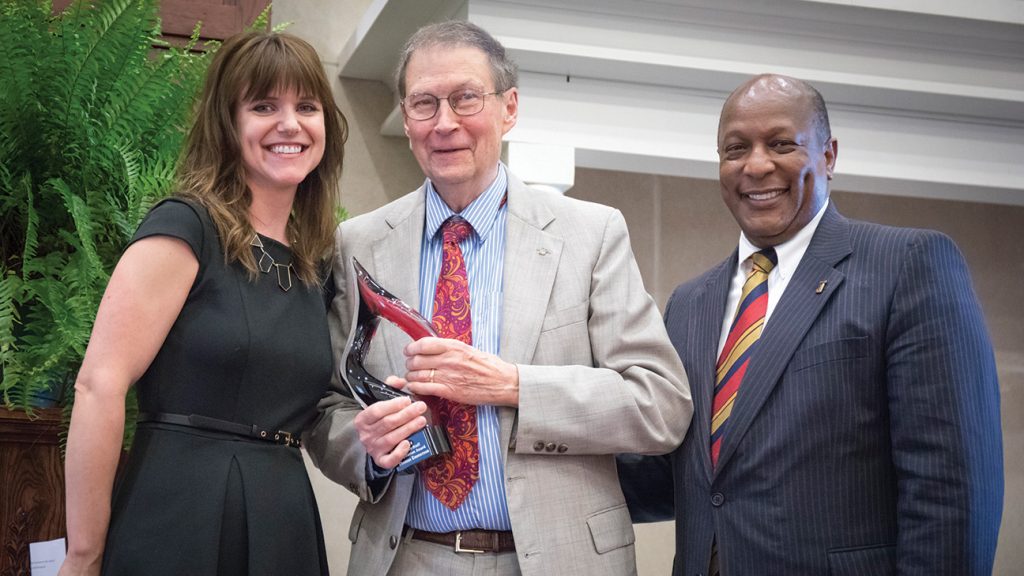 Professor Emeritus Tom Emmerson recognized by ISUAA
Greenlee Professor Emeritus James Thomas (Tom) Emmerson ('60 technical journalism, M.S. '63 history) received a 2018 Iowa State University Alumni Association (ISUAA) Faculty-Staff Inspiration Award. Emmerson taught reporting, print media editing, media ethics, American journalism history and public relations before retiring in 2004. Recipients are nominated for the award by former students. "Tom transformed my life by example and instruction," wrote his nominator. "His instruction — in journalistic skills, history, critical thinking, human decency and more — helped me achieve a velocity and trajectory that enriched my professional and personal life."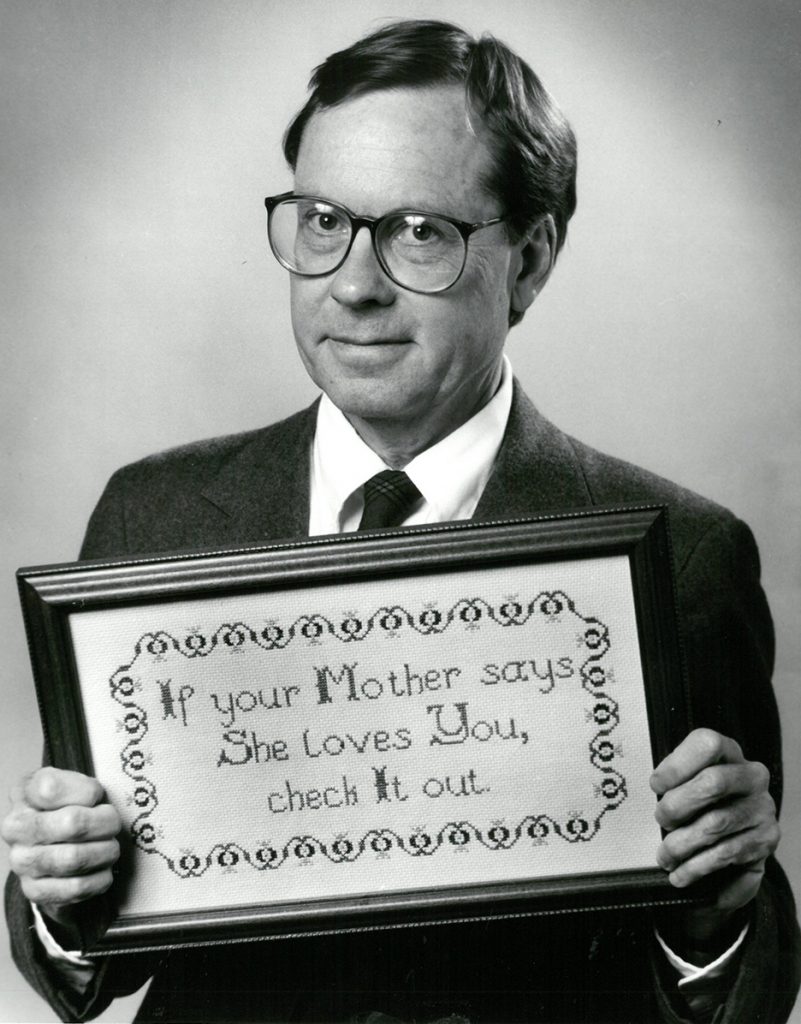 Associate Professor Emeritus Giles Fowler dies
Giles Merrill Fowler, associate professor emeritus, died Nov. 3, 2018, in Ames. Fowler was well-loved by students and faculty at the Greenlee School, where he taught reporting and introduced courses on criticism and literary journalism.
Following his retirement from teaching in December 2002, Giles wrote Deaths on Pleasant Street, a nonfiction account of a 1909 Kansas City murder case.
Twice married and divorced, Fowler called his children "the joys and redemption of my life," according to his obituary. They are Stephen Fowler (m. Mirjana Risek), Toronto; Andrew Fowler, Bangkok; Kate Fowler, Yangon, Myanmar; Will Fowler, Washington D.C.,; and two grandchildren, Milo Fowler and Tilda Fowler, Toronto. He is survived by first wife, Jane Pecinovsky Fowler, Overland Park, Kansas; second wife, Veronica Lorson Fowler of Ames; sisters-in-law, Libby and Kitty Fowler, both of Kansas City, as well as a niece, nephews, and other family. He is preceded in death by his brothers, Richard (Dick) and Lee. Read a tribute about Fowler written by his former colleague Tom Emmerson.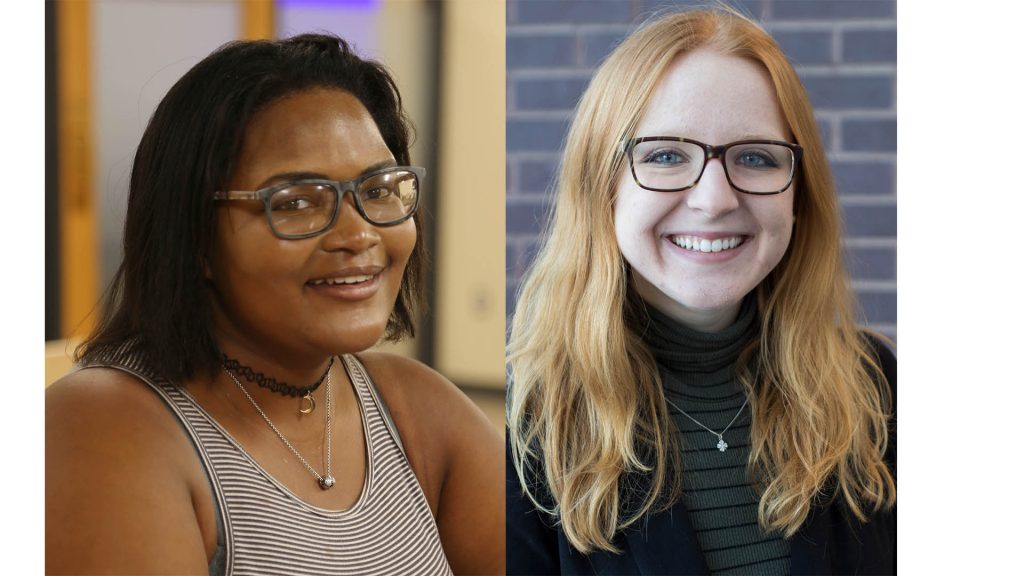 The Pulitzers of student journalism
Greenlee students received 2017-18 Hearst Journalism Awards for their work published by the Iowa State Daily Media Group.
Emily Blobaum ('18 journalism and mass communication), News and Features Photojournalism, semi-finalist
Emily Blobaum and Whitney Mason (junior in public relations), Multimedia Team Reporting, sixth place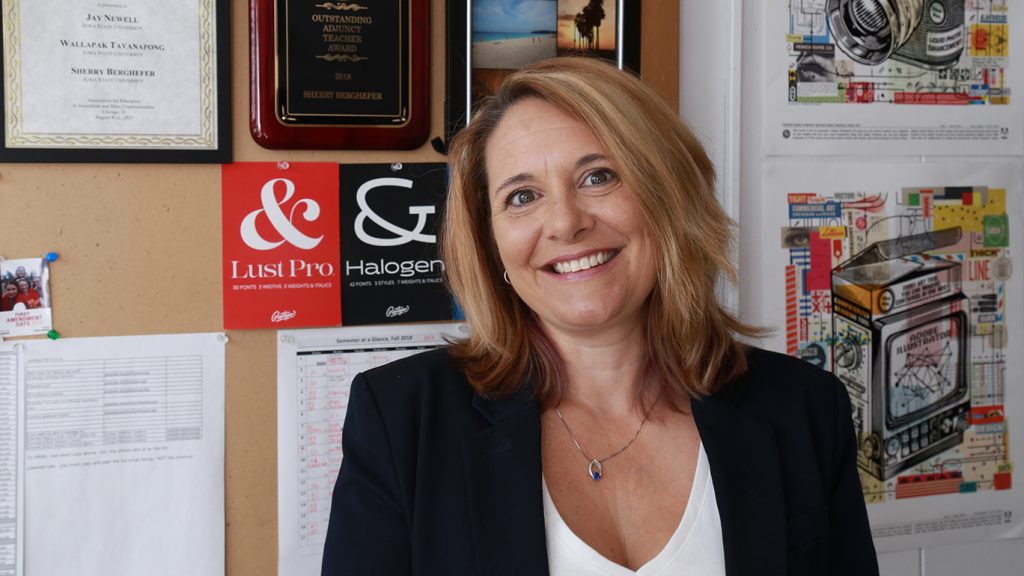 Adjunct of the year
Sherry Berghefer, senior lecturer, received the 2018 Iowa Communication Association Adjunct of the Year Award. Since 2010, Berghefer has taught Greenlee School visual communication courses.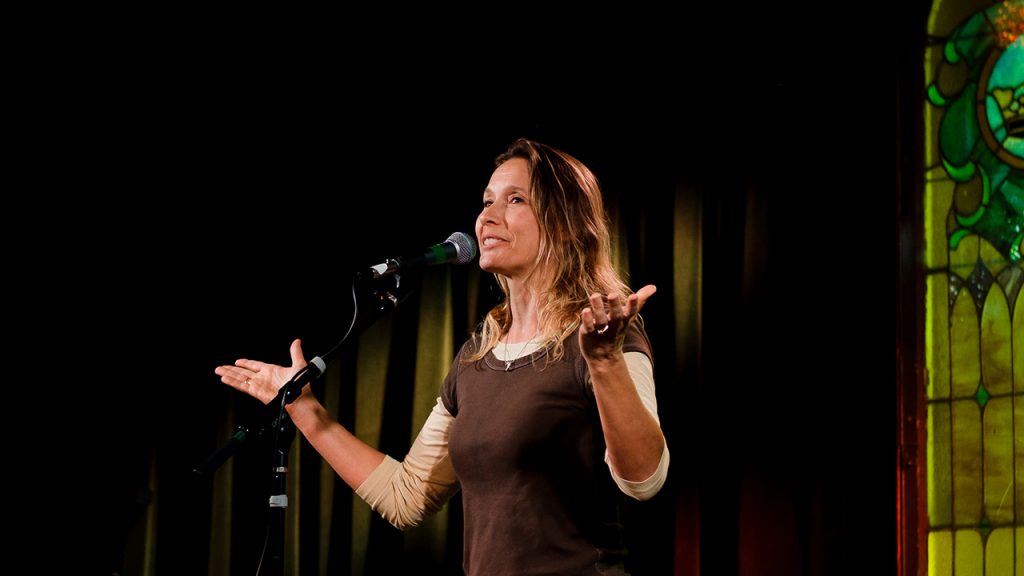 Live storytelling
Five Iowa State researchers, including Greenlee School graduate student Denise Coberley, shared their personal stories about science as part of a live storytelling event hosted by The Story Collider podcast series and Iowa State's Office of the Vice President of Research.
Coberley, a 23-year teaching veteran, shared the impact biology has had in her life. Hear her story.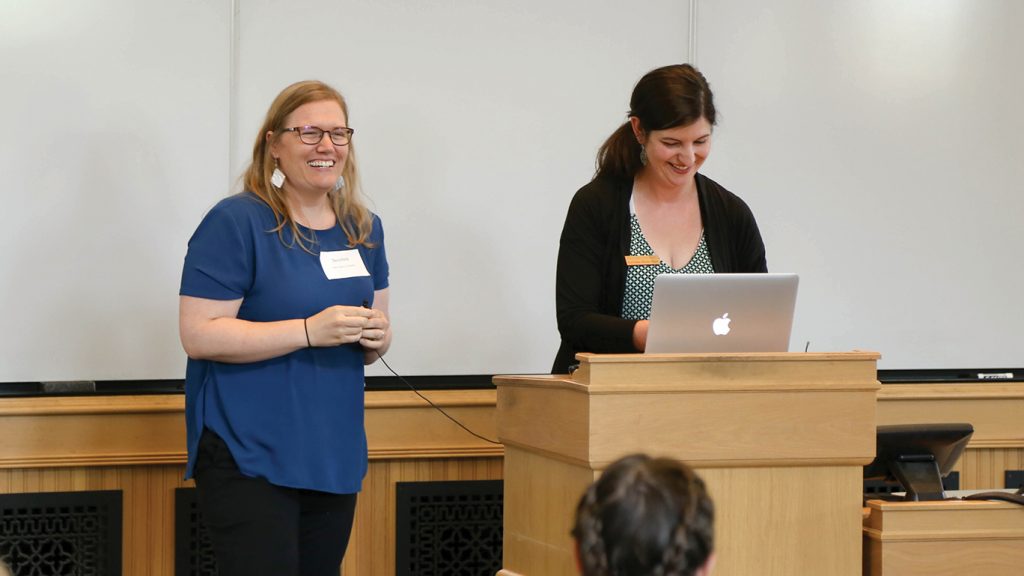 Focus on science communication
In June 2018, over 50 interdisciplinary scholars and practitioners from around the country descended upon the Iowa State University campus for the sixth biennial Science Communication Symposium.
The event was co-organized by members of Iowa State's Science Communication Project, including Greenlee faculty members Dara Wald and Michael Dahlstrom, and Kathleen Hunt and Shuyang Qu of agricultural education and studies.
Attendees explored the theme "Understanding the Role of Trust and Credibility in Science Comunication" as it relates to the environment, health, crisis and risk through several panels and presentations.
The next symposium will take place in spring 2020.
Accolades aplenty
Greenlee students received a number of recognitions for their work in 2018:
2018 Alumni and Friends Honors
Kelsey Kremer ('13 journalism and mass communication)
Maia Zewert ('15 journalism and mass commnication)
2018 Wallace E. Barron All-University Senior Award
Brooke Almasi ('18 public relations)
Emily Barske ('18 journalism and mass communication, marketing)
2018 ISU Alumni Association Alumni Service Award
David Kurns ('82 journalism and mass communication)
2018 LAS Dean's Arts and Humanities Award
Henry Ong ('78 M.S. journalism and mass communication
2018 LAS Distinguished Service Award
Art Slusark (Greenlee School Advisory Council)
2018 LAS Young Alumnus Award
Dan Winters ('03 journalism and mass communication)
2018 CALS Outstanding Young Professional Award
Jen Sorenson ('01 animal science, journalism and mass communication)
Early Achievement in Teaching
Jan Lauren Boyles, assistant professor
Excellence in Graduate Mentoring
Daniela Dimitrova, professor
Institutional Service
Joel Geske, associate professor
Outstanding Teaching
Deb Gibson, senior lecturer, Meredith Professional in Residence
P&S Outstanding New Professional
Jessica Hansen-Moench, academic adviser