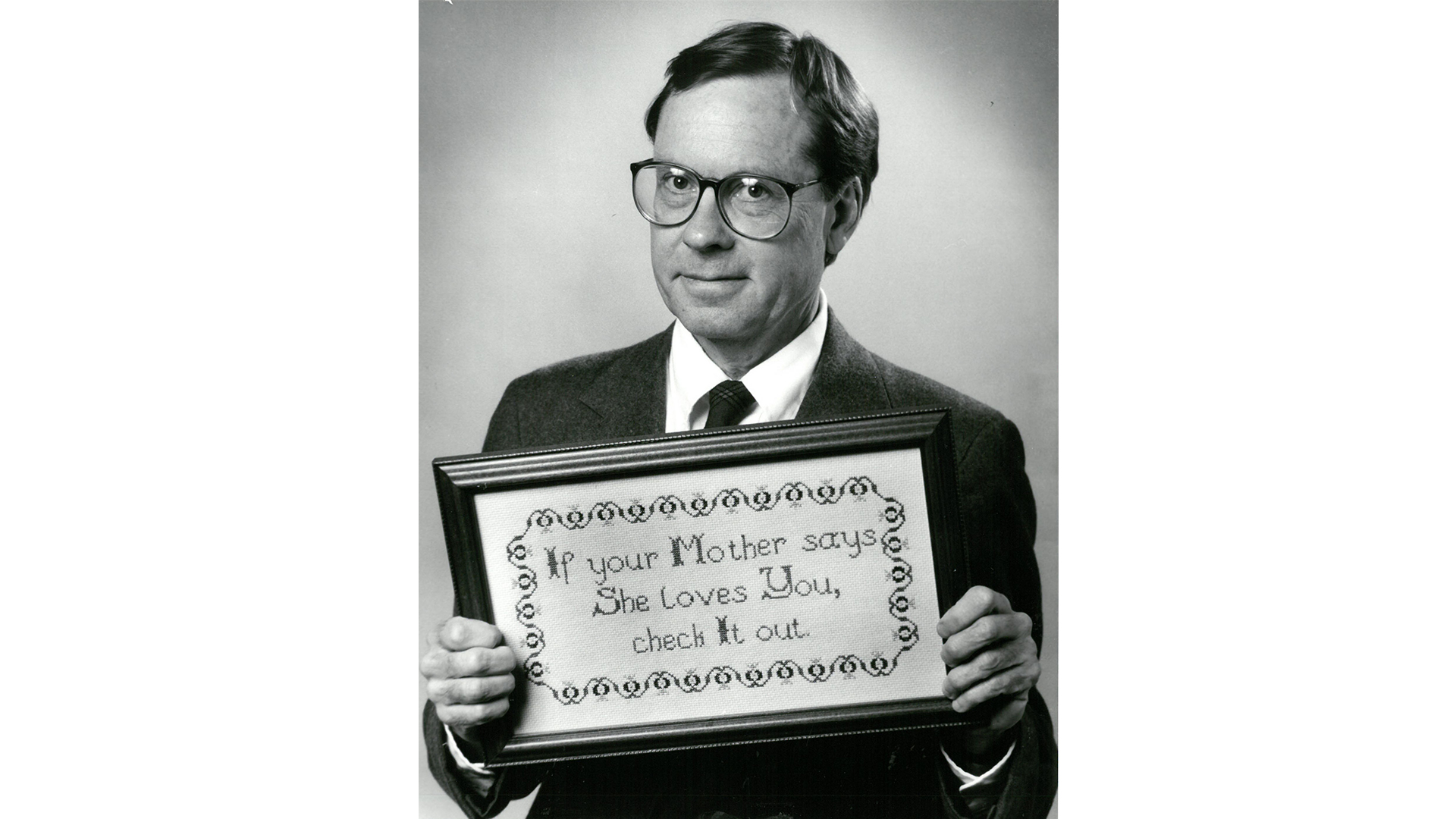 Giles Fowler, 84. Teacher, colleague, friend and bon vivant.
Like a good reporter, he wanted us to know that he actually died on Nov. 3, 2018, from complications resulting from diabetes, heart problems and a spreading infection that began with a root canal.
He did not pass away or join his maker or ascend to heaven. He just died peacefully, thanks to a bountiful dose of morphine.
But he also was comforted by a long and close relationship with the Episcopal church, where services were held on at St. John's in front of a full house in Ames on Saturday, Jan. 5, 2019.
Gone, but certainly not-to-be soon forgotten.
Just ask the 85 to 100 former students, faculty, staff and friends who turned out on Jan. 4 for a remembrance/wake at Alluvial Brewery just north of Ames.
Veronica Fowler (1984) arranged the affair in the spacious back room housing the brewing equipment and related aromas.
Veronica arranged for every guest to receive a chit saying, "Have a Drink on Giles."
Giles would be raising a glass or three – probably either Pilsner Urquell or Peroni. (Wine — his favorite nectar — was not on the menu.)
Just about everyone toasted Giles – including Greenlee School Director Angela Powers and a gaggle of his former students, beginning with Pat Beach who penned the obituary that captured the essence of the man.
Among the toasters were Jon Naughton (who retired that day from the Des Moines Register), Kathie Kinrade Obradovich, Lisa Kingsley, Bethany Kohoutek, Julie Rudd, Val VanKooten, Barb Musfeldt Tapscott, Tom O'Donnell, Dave Roepke.
More than a few came from out of state, including Chris and Caralee Adams (D.C.), Chris Lester (Kansas City), Maureen Deisinger (Virginia), Dru Frykberg (St. Paul), Dom and Kim Caristi (Indiana), Chris Young and Rich Ness (Illinois) and a happy sprinkling of former Kansas City Star & Times colleagues.
Not to mention his far-flung four children – Stephen and children (Toronto, Canada), Andrew (Thailand), Kate (Myanmar/aka Burma) and Will (American University senior, Washington D.C.).
Veronica's relatives and friends joined the fray from as far away as Texas, Pennsylvania and Boston.
So did Giles' more-than-drinking buddies from the Friday Afternoon Curmudgeons' Club and assorted (as well as sordid) others—all with their own tales to tell.
Some of the fondest tributes came from those who could not make it to Ames.  For example, Paul Kix (2003), who read as voraciously as Giles, wrote from Connecticut:
" The man knew how to pile on one great sentence after another. But he wasn't just a stylist. Giles had a deep sense for structure, and I learned as much from him about how to craft a story as how to craft a sentence. He was a mentor, a friend, and above all, a bon vivant.
Anne Christiansen-Bullers (1990) writing from Kansas on behalf of Finn (1986) and herself asked us to
"Please share with everyone our sympathies for a fine educator and loyal friend. "
"If there is indeed a heaven for hard-headed characters like Finn and Giles, there must be a corner that resembles the M-Shop, circa 1985, where the two are cussing and discussing at a corner table.
"The image makes me smile, anyway."
Maureen Deisinger, long-time student adviser during the Giles era, told us on Saturday that
"Virtually every student I talked to said Giles was "tough and demanding, but the best teacher they ever had."
This sentiment was echoed by Kati Jividen (2001) who said simply
"He wanted us to learn."
Family friend Hilary Emmerson phoned in several lovely recollections from New Zealand and then added:
"Giles could insert more syllables than anyone I ever knew into just two words: 'Jesus Christ'"
He was, after all, from Missouri.
So here's a final toast to a gentleman, grammarian, jazz lover, writer, author, critic, stylist, raconteur, bon vivant, father and friend.
Written by Tom Emmerson ('60) & beyond
---
Fowler's eye for detail and ear for color
Giles had a gift for detail, pace and color. Here's an excerpt from what he later wrote about his London Times news editor, R.M. Dobson:
"He was a character of exotic mold – witty, raffish, moody and dashing in the manner of a stage magician or a Royal Shakespeare trouper. He delighted in the dramatic hesitation, the theatrical gesture. . . ."
"He moved about with a cane, carried with the swagger of an Edwardian fop, and he wore his great tweed coat flung over his shoulders like a cape."
"Dobson … was nearly blind, and carefully memorized each piece of correspondence before pretending to read it aloud at the assignment meetings.  One time he 'read' a letter that only we realized he was holding upside down."
– Kansas City Star, 24 Dec. 1978, feature by Giles on the London Times