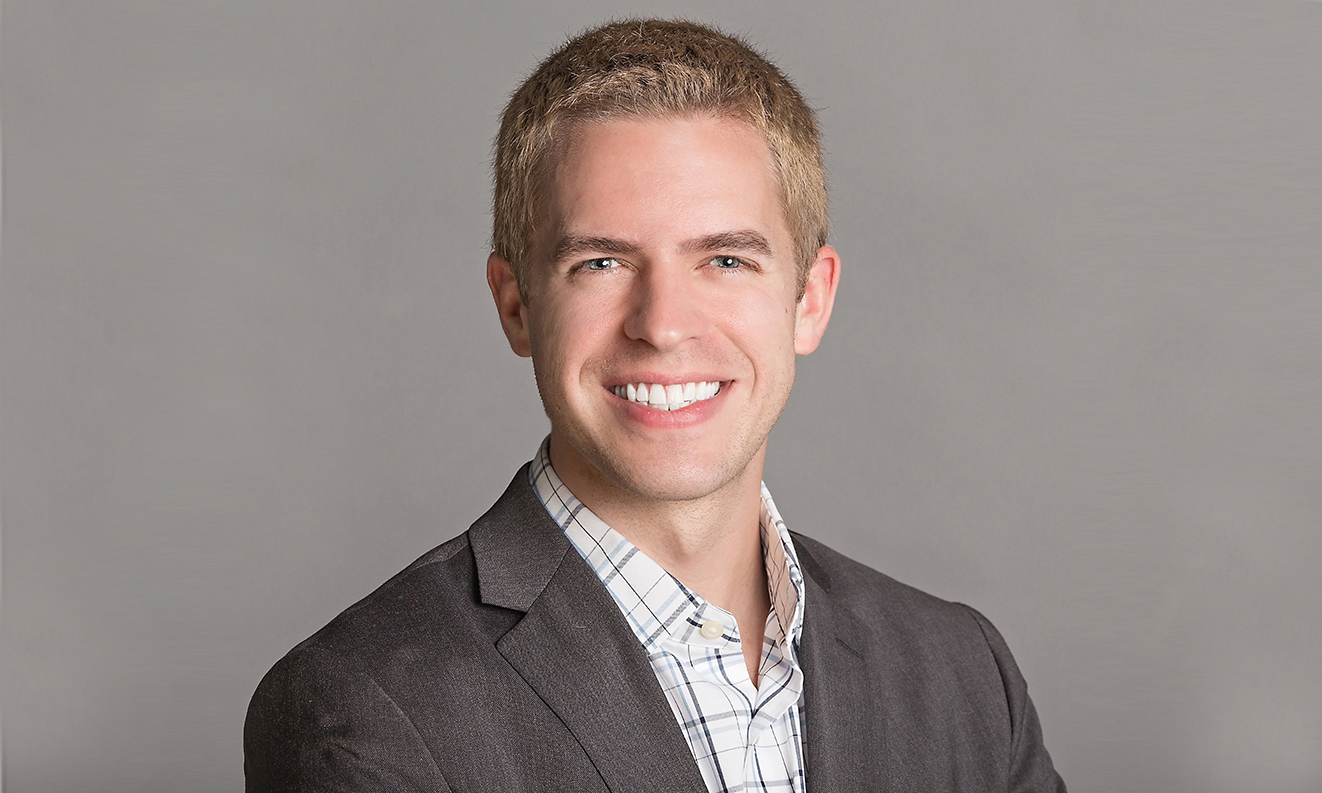 When digital marketing was the new frontier, Drew Harden, a 2003 advertising graduate, charted a new course.
By Garrett Kroeger
It was a risky move. He had a stable job, and his first child was on the way. Yet Drew Harden couldn't shake the feeling that he could find success blazing his own trail.
Now, a decade later, Harden, a 2003 graduate in advertising and graphic design, is celebrating the 10-year anniversary of Blue Compass, the digital marketing firm he co-founded with business partner Cary Coppola.
At first, with no money, no office and no clients, the odds seemed stacked against the pair. While they believed in their concept, they knew they had to make something from nothing. In the first few months, Blue Compass made enough to just get by. In fact, its first project—a job that paid $1,000—went towards buying a URL.
It still feels surreal to Harden that the West Des Moines-based company has reached the 10-year milestone.
"We've gotten here because we have been blessed, and we have a really good team. It is not just because of me … it has just been a really great feeling to hit 10 years,' he says.
PLANTING THE SEED
Back in 2007, Harden was in his seventh year at a creative digital studio that primarily focused on video marketing and a little digital marketing.
While working there, Harden had a realization: Rather than focus on the many facets of advertising and marketing like a traditional agency, why not create a company that focused 100 percent of its time in the digital realm?
Harden and Coppola chose digital because they simply loved the web and how exciting the blossoming area of expertise was at the time of Blue Compass' creation.
"Even 10 years ago, it was so dynamic," Harden says. "So, it's an exciting medium and we have some great expertise in it. I saw an opening in the market place,where not a lot of people were digital-only."
As he navigated his company's early days, Harden reflected on what he learned at the Greenlee School.
"One of the best experiences I had at Iowa State was in Jay Newell's class," Harden says. "In his class, he provided us with real-world experience. We had to come up with a project idea for Turner Classic Movies to essentially market their product. We got to actually be on conference calls with Turner Classic Movies and that was really cool. So, I think some of that real-world experience that I got in cases like that at Iowa State were really helpful."
GROWING AND FLOURISHING
As time progressed, so did the business. A decade later, Blue Compass has had four office changes and now has a team of nearly 30 people.
With growth, comes challenges. But the biggest challenge, at first, was finding the right people.
"The whole system of interviewing and finding the right person in just a few interviews is very difficult. In the very beginning, we really struggled with that process," Harden says.
The team does not have a dedicated sales person. Most of the company's business comes from referrals of satisfied customers or people seeking their services after seeing their work.
The company has built a base of clients, developing websites for the Iowa Association of REALTORS, UnityPoint Health, AE Dairy and many others. Some of the websites Blue Compass has developed have even earned national awards. Their work on Ruan Transportation and Spalding Equipment's sites earned Adobe.com Showcase Featured Website awards—honors Harden is most proud of. The company also recently won the First Place Hashie Award 2017 for best Business-to-Business Twitter account.
As self-professed "digital marketing geeks," Harden and his team like sharing their knowledge. They host classes called "University of Blue" in which they invite others to the office to learn about the latest in social media and search engine optimization. Harden and his colleagues show them examples of things that have worked for them and those that haven't.
While there are never any guarantees, Harden has learned that a strong work ethic, passion and a willingness to learn and grow can help a business flourish.
"I have to continually grow because I think that my business can't grow much higher than I grow," Harden says.
So, he does. Harden reads books about leadership and listens to podcasts about digital marketing. He tries to consume as much as possible because he believes leaders and experts are the ones who ultimately get ahead in the field. And he expects Blue Compass to continue to be a leader in the field for decades to come by staying on top of digital marketing trends and remaining dedicated to developing expertise.
"I know for sure that I want Blue Compass to continue to be leading digital experts," Harden says. "We have to stay on top of the latest trends in programming … I don't know what technology and marketing will bring in 10 years, but I expect us to be where we are now —toward the heads of it."