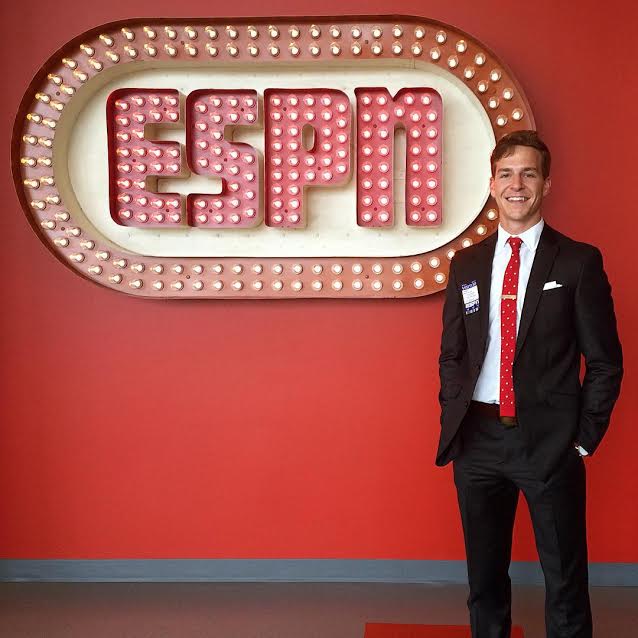 Class: 2014, journalism and mass communication
Then: The Iowa State Daily, KURE 88.5, SIR Magazine, ISUtv, Intern at 1500 ESPN in Minneapolis, Intern at ESPNLA 710, 247Sports Lead NFC North writer, and Digital Media Associate at ESPN
Now: Associate Social Editor at ESPN
As the commissioner of his family's fantasy football league during his sophomore year of high school, Berhow-Goll wrote two posts a week for league members about the upcoming games and other random facts and information concerning the league. While writing one of those articles, Berhow-Goll had a lightbulb moment.
"I was thinking to myself, 'Wow, I can do this for a living,'" Berhow-Goll said.
So Berhow-Goll decided to pursue a journalism degree at Iowa State. During his time in Ames, Berhow-Goll gained a wealth of experience. He was a sports editor at the Iowa State Daily, hosted a radio show on KURE 88.5, wrote for Sir magazine, served as a host on Cyclone InCYders on ISUtv and interned at ESPN 1500 Minnespolis and ESPNLA 710.
That wealth of student experience attracted the attention of employers. When he graduated in 2014, he scored multiple interviews with several highly competitive organizations, including USA Today, the Minnesota Vikings and early-career programs at ESPN and Sports Illustrated.
Unfortunately, those interviews didn't lead to offers. Disappointed yet determined, he returned to his hometown of Ventura, Iowa, and continued working at the local ice cream shop where he'd worked off and on in high school and college. Friends who came in would ask if he still hoped to work at ESPN someday, serving as regular reminders to continue pursuing his passion. Berhow-Goll's response was always the same: "I will try."
And try he did. Berhow-Goll would eventually be offered a position at ESPN, but it involved some patience and perseverance.
Thanks to connections he made at Iowa State, Berhow-Goll landed a writing gig covering the National Football League's NFC North division for 247Sports in October 2014. In July 2015, he received a phone call.
ESPN wanted Berhow-Goll to interview for its yearlong Digital Media Associate Program again. The program offers opportunities for experienced graduates or junior-level employees to work in various roles at ESPN, integrate into the culture and develop relationships with mentors. However, it only accepts four participants from a pool of about 1,000 applicants every year. Berhow-Goll learned he had been the first runner-up when he had applied the year before, so he was grateful to get another shot. But to be accepted into the program, he had to do some homework.
He was given four assignments to complete and present during his ESPN interview: the piece he wrote in which he was most proud (a feature about ISU point guard Monte Morris in the Iowa State Daily), a business strategy for selling ESPN Insider subscriptions to millennials, a well-formed story idea including editorial rationale and story development strategy and a social media plan alternative to Twitter. Berhow-Goll worked on this homework for several weeks and presented the items in what turned out to be six, 30-minute interviews with ESPN.
Two weeks later, Berhow-Goll was packing his bags for Bristol, Connecticut, to join the ESPN team. As a participant in the program, Berhow-Goll would do a three-month rotation in each of four different departments that were selected based on his skill sets and the organization's needs.
"I started with what was the, 'Now Feed,' then went to ESPN Magazine as an editor and researcher, followed by the Insider and Fantasy department and then in June, I started as a social editor."
During those three months as a social editor, Berhow-Goll assumed he would probably have to head back to Ventura when the progam was over. However, ESPN extended Berhow-Goll's contract and he became an associate editor for the company's social media team.
In his current role, he helps manage, analyze engagement and edit posts for ESPN's social accounts, including Instagram, Twitter, Snapchat and Facebook.
"To survive in today's landscape, you have to do it all," Berhow-Goll said. "Don't be afraid to step outside your comfort zone."
Berhow-Goll credits his early success to the lessons learned and experience gained at the Greenlee School. He encourages students to seek opportunities outside the classroom as soon as they can and continue to build upon them.
"Getting started at the Daily immediately was a huge pro because too many kids try to join the Daily as a junior and they fall behind all the sophomores who have been there a year…It was important for me to earn my stripes," Berhow-Goll said. "Greenlee has a lot of resources."
By Garrett Kroeger