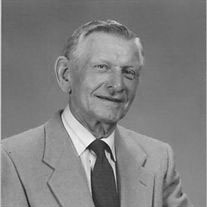 Richard (Dick) J. Cech passed away Friday, Jul. 3, 2015. He was 96. Richard lived a long and full life that began in Kansas. He graduated with a bachelor's degree in journalism in 1941.
After graduation he went into active duty with the Army and achieved the rank of Major commanding anti-aircraft combat units in the Philippines during WWII.
Upon return from the military, Richard took a job as an Assistant Radio/Press Publicity Editor in K-State's Agricultural Extension Service in Manhattan, KS. During his time in this position, Richard met, courted and married Nancy Reid, who was also employed at K-State as the Assistant Director of the K-State College Counseling Bureau. Richard and Nancy were married for 68 years and have 5 children and 5 grandchildren.
After working at K-State, Richard moved on to an Ag Extension position at Ohio State University where he conducted a daily noon-hour radio program of information and entertainment on the University's radio station, WOSU. He continued on-air radio work in Cincinnati, OH and at Iowa State University in Ames, IA.
Richard worked in agricultural advertising, eventually operating his own communications/PR company until he retired in 1988. He was an amazing, dynamic force in agri-marketing. Richard is survived by his wife, Nancy, children and grandchildren.