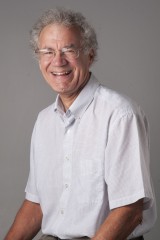 Excerpts from Ames's nominations:
Looking back my stay in the United States, Iowa State and the Greenlee School will be incomplete without his exemplar support. It has been both memorable and life changing. I'd want Dr. Eric Abbott to be considered for the Health/Lou Thompson, Jr. Award because he helped to sort out an ensuing confusion in the direction of my academic path, provided exquisite guidance as a major professor and proved the life line to an otherwise fading prospect of a young graduate student-who is away from his familiar territories in sub Saharan Africa- through his uncommon professionalism.
Dr. Abbott had been giving advise to my thesis for one and a half year already, he takes time out of his busy schedule, helping me improve the thesis from overall idea to small editings, his smart explanation and responsible attitude moved me every time I meet with him. In all, Dr. Abbott's teaching efforts and great personality deeply touched my heart, I think he deserves this award as well as every confirm to his great works.