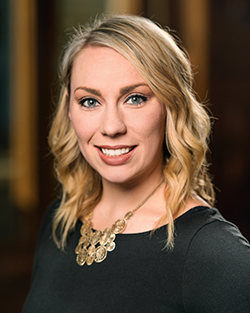 Kacey Birchmier ('11 journalism and mass communication) is the Media Relations Manager at Corteva Agriscience. In her role, she is focused on promoting company news and sharing agronomic insights with the media.
Kacey is a graduate of Iowa State University with a B.S. in Journalism and Mass Communication. A member of the Agricultural Communicators Network (AAEA), she has received multiple honors and recognitions including AAEA Master Writer, AAEA Writer of the Year – Honorable Mention 2018, and the AAEA Andy Markwart Horizon Award.
Prior to joining Corteva in 2018, she worked at the Meredith Corporation as an editor for Successful Farming and the Meyocks Group in account management.
Kacey and her husband, Bennett Mann, live outside of Farrar, Iowa. She spends her free time visiting her family farm and her husband's family farm, which are both located in central Iowa.