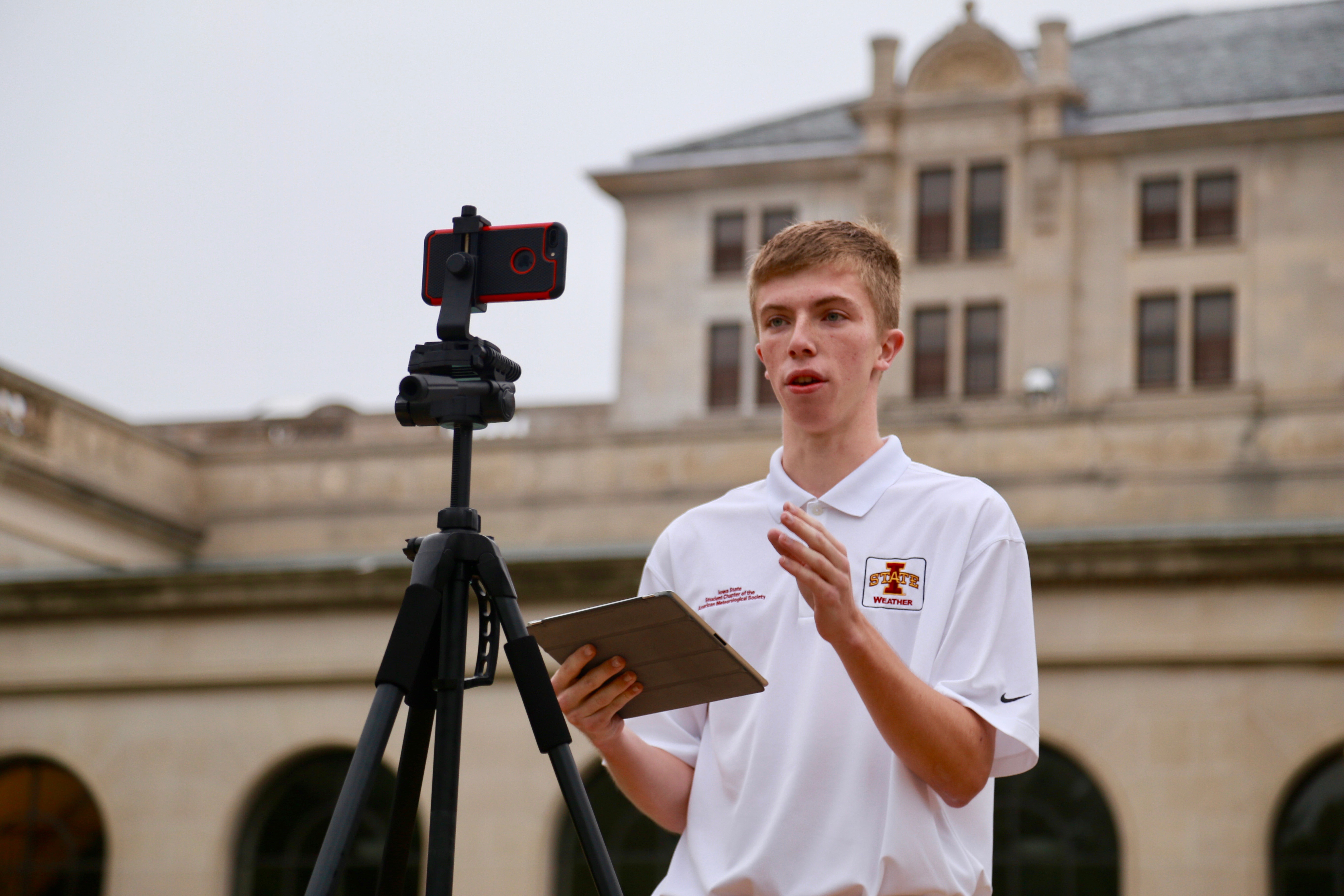 Written by Molly Olson, '18 public relations 
Who need cartoons when you have weather reports? Not Jacob Vos.
The Spirit Lake, Iowa, native spent his childhood studying the styles of admired TV meteorologists in the same way some kids become enamored with the animated characters on their favorite shows. After absorbing the daily forecast, he would then deliver a report to a local audience — his parents.
"I wanted to grow up to be just like [those meteorologists]," Vos said.
Today, the Iowa State senior in journalism and mass communication and meteorology is developing his own style of weather reporting through Iowa State Weather, a project he launched through the Student Chapter of the American Meteorological Society at Iowa State University.
While not an official weather forecasting account of the university, the social media-based initiative provides Iowa State campus-specific weather forecasts and daily weather updates on Twitter and Snapchat (@IowaStateWX) and on Facebook and Instagram (@IowaStateWeather).
As the director, producer, videographer, graphic designer and on-camera talent, Vos begins each day at 5:30 a.m. to collect data and prepare graphics for his morning report. He then films a one-minute video on campus that highlights the day's forecast and posts it at approximately 7:45 a.m. on various social media platforms.
In addition to weekday forecast videos, Vos posts daily updates during the school year and provides special coverage during weather events.
To get information for his forecasts, Vos utilizes sensors on top of Agronomy Hall. He also looks at multiple forecasts and models on a variety of government resources. After taking all of the information into account, he evaluates what the impact will be for Ames.
"Unlike other places, I am focused on a very small area," Vos said. "A one-town focus allows me to look at every factor and create a more accurate forecast picture."
The innovation is in his delivery. The project exists entirely on social media, and Vos has become a familiar face on campus with students and staff alike stopping him to say, "I watch you every morning!"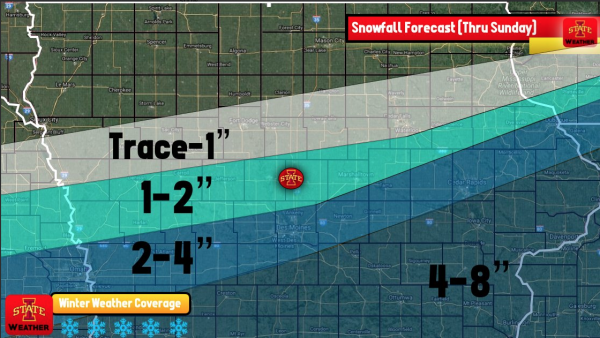 Taking initiative
Vos is no stranger to identifying an audience need and delivering. He found his way to journalism as a sophomore at Spirit Lake High School. After enrolling in journalism as an elective course, he discovered his school's broadcast news studio had been abandoned years ago. One question led to another. Before he knew it, Vos was leading the reboot of the broadcast program using his school-issued laptop and a video camera donated by the principal.
"I realized I could really make a difference in our [high] school where [broadcast] journalism of any kind had somewhat died," Vos said.
Through his dedication and hard work, Vos made an impressive mark.
In 2015, he and his classmates broke a Guinness World Record for the longest uninterrupted live webcast, clocking a 43-hour show. Their success brought them attention from local and national media including the Today show.
Vos also raised $5,000 to renovate the school's studio and build a news desk. Throughout the remainder of his high school career, he led the broadcast program and provided daily weather forecasts for the news program. This experience affirmed his passion for meteorology and inspired his move to major in both journalism and mass communication and meteorology at Iowa State University.
Continuing the adventure
Vos is now making his mark at the college level. With encouragement from Grace Provenzano, Greenlee lecturer and Greenlee School TV (formerly ISU TV) faculty adviser, Vos submitted Iowa State Weather to the 2018 Broadcast Education Association (BEA) National Competition in the Interactive and Emerging Technology category.
After placing second in the competition, Vos traveled to Las Vegas last spring to accept his award at the 2018 BEA Festival of Media Arts.
"I was very impressed that he actually took the initiative and not only developed the project, but kept it updated with material and reports on a subject he loves," said Provenzano, who joined the Greenlee faculty in 2017 and has taught broadcast journalism for 15 years. "I think there's a real passion there for what he wants to do."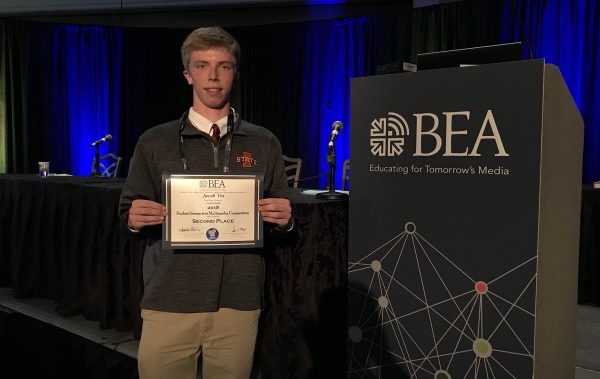 Provenzano believes Vos' submission stood out because it showcases the hard work he has put in and the clear passion he has for broadcast meteorology.
"He's serving a purpose for the community," Provenzano said. "He's always looking for ways to keep it updated and his interest in what he does really comes across."
One of the primary factors behind Iowa State Weather's success is its easy access, Vos said. Content shows up on social media just when his followers need it — as they're scrolling their feeds before they head out the door.
Vos also considers the strengths of each platform and its audience before he posts: "A beautiful sunset caught on one of the sky cams will do well on Instagram. A video of a flooding will do very well on Facebook and Twitter. Snapchat followers interact well with an early morning forecast update that they can wake up to," he said.
Vos finds other ways to weather both inside and outside the classroom. He serves as the producer of "Cy's Eyes on the Skies," a weather program collaboration between the university's AMS chapter and Greenlee School TV. Greenlee's broadcast writing and production courses have also helped expand his knowledge of digital media.
"Being able to produce content efficiently and write for broadcast is crucial," said Vos. "I am able to work in front of the camera and behind the scenes because I have received training on both."
Moving forward
An internship last summer with a news station in Salt Lake City has given Vos even more knowledge and experience.
"In my internship, I interacted with broadcast meteorologists on a daily basis and helped them create graphics for their shows, while spending time with the journalists out in the field, learning how to ask the right questions and putting together a package on a deadline," said Vos.
His focus now is quality and growth With Twitter currently Iowa State Weather's most successful platform, Vos has worked on bringing traffic to its Facebook and Instagram accounts. To keep the project going after he graduates in spring 2020, he also plans to train fellow students who are also interested in broadcast meteorology.
"Iowa State Weather will continue to be the leading source for weather information on campus well beyond the time that I leave Iowa State University," said Vos.