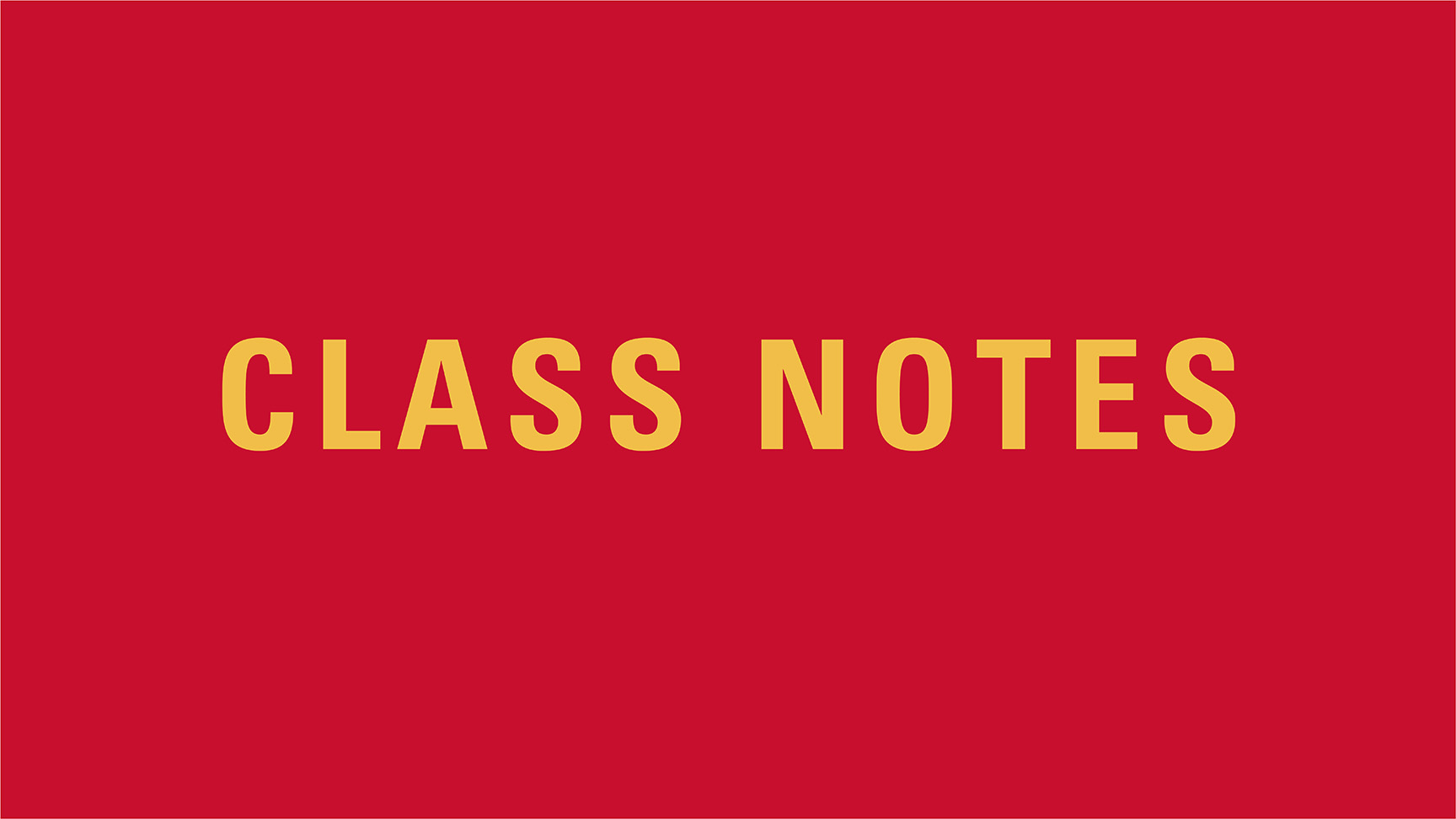 1950s
Barbara (Culver) Van Sittert, Ph.D. (1958) Our son Todd died this September of complications from diabetes. He was just 60 — too young to die. We're grieving and doubt that ever ends.  Chilly in Phoenix. We're dispirited by what looks to be a turn towards socialism in the midterm elections.  But we're just common sense old Iowa farmers <chuckles>.
Carolyn (Dahlin) Acheson (1959) Staying in touch with some ISU classmates and receiving the news via print and online is highly appreciated. It was a great education in journalism, and I'm still working as a textbook editor.
1960s
Dennis Hasenwinkel (1961) Go Cyclones! Been making TV football a priority… but black uniforms? Now have a granddaughter in journalism business … didn't attend ISU because of too-high out-of-state tuition. We keep pushing legislators to make changes.
Gale Johnson (1961) Isn't it fun to follow Cyclone sports these days?  Went to Austin with a friend to see them lose to Texas, but the Friday night ISU party almost made it worth it.  Enjoying 'Clone basketball on TV…even here in Virginia.  Been here 19+years; turned 80 in Sept; and have "retired" from fox hunting, but still trail ride.  Still do a little consulting.
Edith (Lillie) Bartley (1961) No news is good news, right?  I'm just reporting in to let you know that I am still at the same address (253 Hicks St., Brooklyn NY 11201), same phone (718-596-2972), same email (edith.bartley@att.net), same grandchildren. All good. Best to all. Edith
Beth (Sartor) Obermeyer (1964) I finished the seventh draft of "When Winter Came," about how my grandfather, a country doctor, saved 1,000 lives in the great flu pandemic of 1918, lost only five. After attending the Loft Literary Center Pitch Conference, where three New York agents asked for the manuscript–I handed it over to a Loft editor for one more set of eyes. I will be checking publishers, it's a process I did for my first three published books. Grandson Jack is a sophomore in Boston at Berklee College of Music. Grandson Brooks is applying to colleges, getting some nice results so far. He visited ISU first and was so taken by the beauty and the architecture school, the way the visit was handled. Yay for us.
Wayne Anderson (M.S. 1968) Enjoying retirement in 13th year–hard to believe it has been that long. Wife Jacquie and I still training retrievers on our hobby farm northwest of Twin Cities in Minnesota. Enjoying watching 3 granddaughters growing up way too quickly in Michigan, whenever we can get out there.
David Elbert (1969) Retired in April 2012 as business editor and columnist at the Des Moines Register. I've been a free-lance writer and columnist for the Des Moines Business Record since July 2012.
1970s
Richard Keller (1972) Been retired for two years and haven't had the urge to do freelance journalism projects. Moved to Richmond, VA, from Kansas City, MO, last December to be near son's family with new granddaughter. Definitely continue to follow ISU sports events via national TV and CyTV.
Rod Williamson (1972) I retired after nearly 34 years with the Vanderbilt University Department of Athletics. I've stayed busy with volunteer work (voter registration), yoga/walking, yard work, travel and helping shuffle our seven nearby grandkids to their activities.  We follow Cyclone athletics closely!
AJ Zissler (1973) Hello ISU Alums! I am happy to report that I've been able to utilize my ISU double major in journalism and international studies during my entire career. Currently I'm teaching business English online for a Silicon Valley-based company to managers and professionals who work for multinational companies around the world. I also edit client business writing samples in our "Writing Feedback Service". After teaching at one of Europe's best business universities in Poland, I relocated to Boise, Idaho. This is one of the most livable cities in the U.S. in the nation's fastest growing state. Love it here! My language and communications work is home-based and is stimulating, fun and challenging. My advice is to always do what you're interested in and gives you flow with freedom.
Margaret (Askew) Johnson (1974) I was sent by the American Council of Young Political Leaders and the U.S. State Department to the Philippines in late August 2018 to assist with the passage of a public records law in Pasig, Philippines.  The legislation was the first such transparency law in the Philippines and was based upon the Iowa public records law. Vico Sotto, an elected official in Pasig, spent May in Iowa.  We worked on the legislation while he was here with the Iowa Public Information Board. I am the IPIB Executive Director.
Terry Rich (1974) After years of a fun career (which started at Greenlee), I've retired from full-time employment to continue my professional innovation and ethics speaking gig,
Larry Carley (1974) After a 39 year career as an automotive technical writer, I have finally retired! I wrote over 3500 feature technical articles, wrote 16 books, numerous training programs and technical newsletters, and created the AA1Car.com website and CarleySoftware.com.
Cliff Brockman (1975) I retired this spring and received emeritus status from Wartburg College. I was fortunate to have two careers that I loved, 32 years as a professional broadcast journalist, and 14 years in higher education, the past 12 at Wartburg. My wife Cindy also retired this spring and we are looking forward to spending more time with our family, including our three year old grandson!
Daniel Montgomery (1975) While in remission from non-Hodgkins lymphoma, I'm working down my bucket list of places to travel with my wife Jana.  Each day is a gift.
Scott Monserud (1977) AME/Sports at The Denver Post for the past 11 years. We have gotten considerably smaller due to cutbacks but are fighting the good fight. If ever in Colorado, please look me up.
Steve Arbuckle (1977) Director, EOPS/CARE/Foster Youth, College of the Desert, Palm Desert, CA
Larry Wentz (1977) I'm still anchoring at KMEG/KPTH TV in Sioux City.  My second liver still holding out after nearly seven years. I was surprised and honored to be inducted into the Silver Circle Honor Society of the Upper Midwest Chapter of the National Academy of Television Arts for surviving 25 years or more in this meat grinder of a business.  I was even more honored to have 1966 Iowa State journalism and fish/wildlife biology grad Ron Schara introduce me. Ron has been a highly successful outdoor/wildlife writer, radio, and television host working out of the Twin Cities for years.
Debra (Squire) Dietzman (1978) In 2018, I formally launched my freelance writing/communication consulting business, Solidago Communications LLC.  Looking forward to growing that enterprise in the new year.
Gregg Hillyer (1979) Continue to work as Editor in Chief of Progressive Farmer magazine, the largest circulated ag magazine in the U.S. Introducing a design refresh of the magazine in 2019 and launching enhanced digital content platforms.
David Johnston (1979) In my 15th year of self-employment, which includes 10 years of teaching an HR communication course for World @ Work. Family is growing: a new granddaughter last April, getting a new son in-law in March.
1980s
Deirdre (Cox) Baker (1980) My journalism career of almost 40 years ended on Feb. 2 at the Quad-City Times, Davenport, Iowa. I'm taking a year off and will do some other job, probably related to writing, in mid-2019. Current blog: bakersheartbeat.blogspot.com
Perry Beeman (1981) In my fifth year at Business Record, where I am now managing editor.
Gary McCoy (1982) I am now in year 19 of running my own communications business. For the past 10 years I have been the managing editor of Springs magazine, published by the Spring Manufacturers Institute. I also help various companies with communications projects and several agencies with public relations for their clients. I am blessed with good health, family and friends
Brian Meyer (1983) In August 2018, I received the Professional Award from the Association of Communications Excellence in Agriculture, Natural Resources, and Life and Human Sciences (ACE). This is the highest honor presented by ACE, an international association of communicators, educators and information technologists with land-grant university roots dating back to 1913.
Mary Hartnett (1985) I am the news director at Siouxland Public Media, KWIT-KOJI in Sioux City, Iowa.  I am also working on a project at USD that involves creating a program of improvement for community college broadcast journalism programs.  I have a ten-year-old daughter named Katie, two guinea pigs, and a hamster.
Cyndi (Deal) Atkins (1985) Named Executive Director of the Pella Opera House.
Brian DeVore (1986) In October 2018, University of Wisconsin Press published my book, "Wildly Successful Farming: Sustainability and the New Agricultural Land Ethic."
Gene Newgaard (1988) I returned to campus as a lecturer in the English department last fall after a seven-year hiatus teaching at the community college level. I was privileged to teach a journalism learning community section of ENGL 250 ISUComm Foundation course this fall, and also taught a section of ENGL 314 Technical Communication in a classroom in Hamilton Hall, so I got a bit closer to my undergraduate roots! I am closing out the first year of my third term as mayor of Iowa Falls.
Cyndi (Naylor) Jaques (1988) I live in Sydney, Australia, where I work with a great marketing team for a Technology Solutions company. How I reach my customer certainly undergone massive changes over the past decade. With old school printing almost obsolete, I spend most of my time writing website blogs and social media posts. Hope to come back to Iowa for work one of these days!
Douglas Jensen (1989) I celebrated 5 years this year at Estee Lauder Companies where I have a global analytics role, helping our brands measure advertising & promotion effectiveness, social media / influencer engagement, market share and consumer data reporting and analytics.  This year professionally, my role was also expanded to include consumer insights to drive our corporate innovation / new product launch programs.
1990s
Kelly (Nutt) Perkins (1990) I am a Quality Specialist at OraLabs, Inc. in Parker, CO. We are a leading US manufacture and distributor of personal care products such as sunscreen, lip balm, hand sanitizer, oral care and promotional items. Check us out at www.oralabs.com.
Bruce Blythe (1990) I'm now in my fifth year as lead writer & social media editor for a digital marketing team at Accenture, a big consulting firm that does a lot of work in artificial intelligence, cloud computing & other tech. I also do a lot of freelance writing for financial services clients, including a few that are involved in blockchain and cryptocurrency. It's fascinating watching new technology like that evolve, and there are lot of good stories going on.
Mona Bond (1992) My career took a shift from my JLMC major in public relations as I focused on agriculture and highway construction.  As an environmental consultant though, I use the skills taught by many great professors.  I am very proud of my ISU degree and it has helped me though my professional journey.
Elizabeth Howard (1993) Elizabeth G. Howard recently moved with her family from Connecticut to Lee's Summit, MO where she accepted a position as Content Specialist at Unity World Headquarters. She and Colin are thrilled to return to the Kansas City area.
Shuva Rahim (1998) In 2018 I earned my Master's in Education from Rutgers University and began as a software trainer with Leepfrog Technologies in Coralville. Leepfrog makes software for colleges. My job is to train administrators, faculty, or staff through webinars and in-person sessions. The travel is fun, allowing me to visit many parts of the U.S. I still teach continuing-ed classes at Kirkwood Community College and sporadically do photo/multimedia projects. On the personal end, I ran half-marathons in California, Wisconsin, and Ohio in 2018, and my husband and I marked our 6th anniversary. If you're in the area, reach out at srahimphoto@gmail.com.
2000s
Kim Bui (2004) I just joined the Arizona Republic as a Director, focusing on audience, breaking news and innovation. So glad to be back in local news!
Lynn Laws (2004) Lynn Laws worked as Communications Director for the Iowa Environmental Council from 2005, until taking a communications specialist position for ISU College of Ag and Life Sciences (CALS) in July 2012. Since that 4-year contract ended in July 2016, she has been working as the Research Program Coordinator for CALS' Experiment Station–a position in which she assists researchers in telling their story to funders.
Jaclyne (Hamlett) Heller (2005) Jaclyne Hamlett Heller will celebrate 11 years at KWWL-TV (part of Quincy Media) this December.  Jaclyne is a Sales Account Manager for the NBC affiliate of Eastern Iowa. Her focus is working with local and regional businesses to schedule commercial and digital campaigns to increase sales and brand awareness! Jaclyne holds the new business development record at the station for the total sold in one year and has won numerous awards for performance. She works with clients such as HyVee and Arby's as well as numerous local healthcare and automotive companies. When not working, she is busy volunteering and spending time with her husband (Stacy Heller, 2005 Ag Engineering).
Kala (King) Morrissey (2008) I was awarded with the Gold Medallion Award from the National School Public Relations Association (NSPRA).  The Gold Medallion is NSPRA's top program award, recognizing superior educational public relations programs.
Maria (Galanakis) Sorensen (2008) My husband and I just celebrated ten years in business as Sorensen Studios; a mural painting and photography business. We also started Iowa The Freedom Rock® Tour in 2013 and are in our fifth year of that project. We anticipate that the Iowa Freedom Rock® Tour will be wrapped up by 2020, with a Freedom Rock® in all 99 counties of Iowa. My husband is the main painter in our business, while I am the main photographer and communications coordinator for The Freedom Rock® Tour. My Journalism and Mass Communications degree from Iowa State University has been very helpful in our small business. We also have two children and love raising them with entrepreneurial spirt! To learn more about our business and projects, visit: www.thefreedomrock.com.
2010s
Danielle Ferguson (2016) I started at the Argus Leader in Sioux Falls, SD, right after graduation. I started as a breaking news night shift reporter, and have since moved to covering courts and justice issues. I love learning more about our local justice system and how to keep an eye on it.
Sarah Ramundt (2016) After finishing my Masters in Educational Leadership at TCU, I moved to Morgantown, WV to work for the Mountaineers. Like my role at TCU, I continue to make videos for social media, in-game entertainment, and more for all WVU sports.
Alexander Hanson (2017) I've been promoted to Technical Manager, On-Air Operations, at NBCUniversal's Network Operations Center in Centennial, CO.