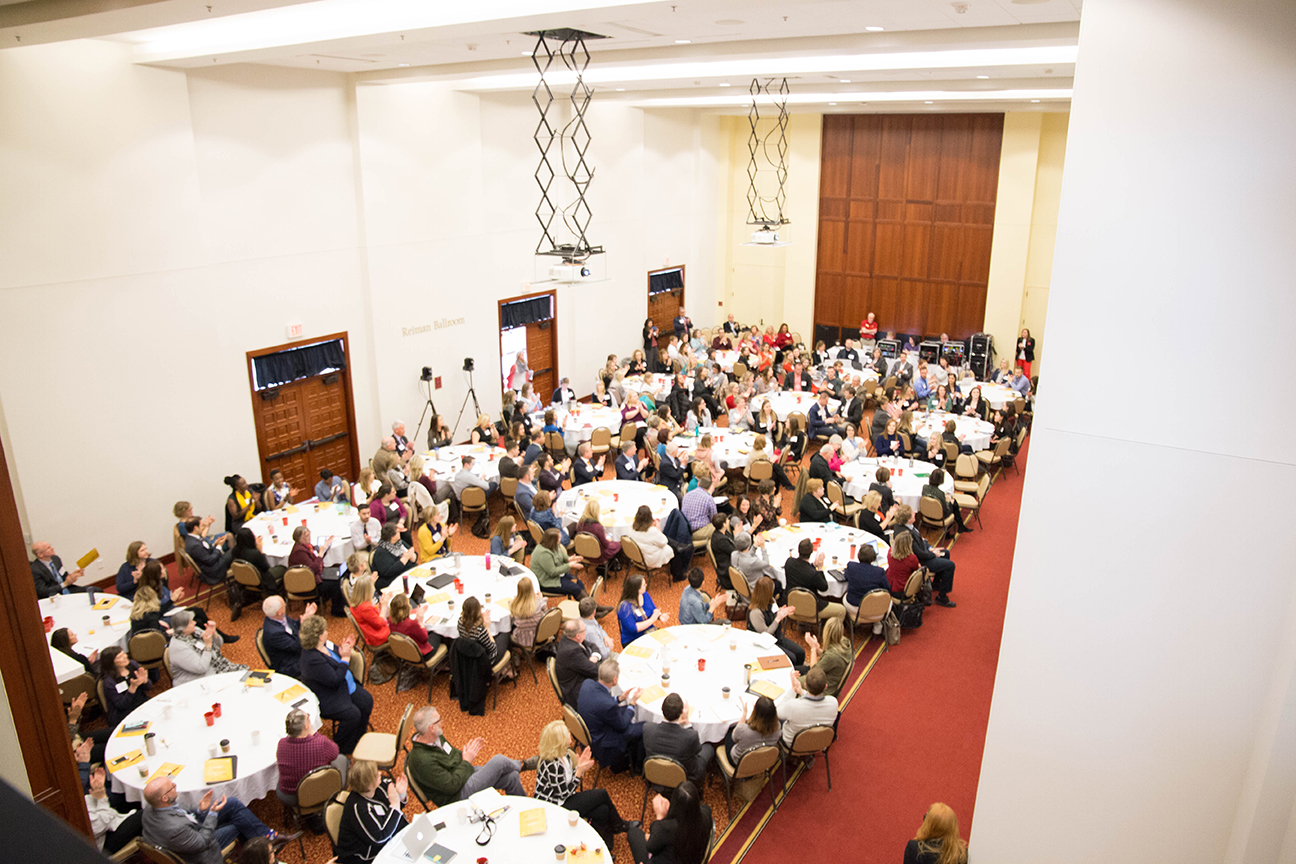 Passion is hard to define and even more difficult to see. And quite often, even if you do see it, it is fleeting. Only on those very rare occasions is passion both visible and sustained. The Greenlee Summit was one of those rare occasions as more than 200 professionals came together on April 6 to learn from experts – and each other – in the Greenlee School's three disciplines of journalism, advertising, and public relations. It was a day filled with passion for the profession.
The Greenlee Summit was truly a celebration of all the dynamic change happening in our industry. Professionals traveled from nine states to share ideas and hear from the best in our business. Panelists represented local and national news organizations, nonprofits and media organizations, digital firms, Fortune 500 organizations, and featured reporters, editors, executives, publishers and many more experts from these very unique disciplines.
Summit topics were timely and hard hitting. Panels on fake news, storytelling, designing for digital, managing and thriving in change, Facebook and its role, and digital advertising were the featured topics. Even more learning took place during designed breaks, where participants exchanged ideas, stories and professional advice. The environment was collegial, supportive, and invigorating.
But the most important takeaway from the day was a strong reminder about the quality that Greenlee continues to produce. The equation is straightforward: quality students and quality instruction develops quality professionals. Nearly three-quarters of the Summit audience were Greenlee graduates, and many are leaders in the fields of journalism, advertising, and public relations. But regardless if you were a Greenlee alum or not, the day focused an intense light on why Greenlee continues to emerge as a destination school for prospective students, faculty, and current and potential funding partners.
The response from attendees was overwhelmingly positive. As a member of the planning committee, I was asked how the idea for the Greenlee Summit came about. In truth, the Greenlee School of Journalism and Communication is one of the industry's best kept secrets. And quite frankly, organizers want to change that perception.
Facts tell the incredible story about Greenlee's quality, and why it was the ideal home for this industry-leading event:
Greenlee's job placement rate consistently reaches the upper ninety percent range
Instruction is in-depth, integrated and personal
Greenlee enjoys the status of one of the longest accredited programs in the United States
Peer and faculty relationships are immediate and lifelong
Alumni return to support the school in multiple ways, assisting with preparing students for their chosen careers
The faculty and leadership work diligently to help students graduate within four years, saving students valuable time and money
The Summit has many people to thank: participants, sponsors, panelists, alumni, students, faculty, staff, school and college leadership, and many others. So many people and organizations contributed to making this such a special day. Yet at the end of it all, the Greenlee School of Journalism and Communication was the real winner. True passion – for the day, fellow colleagues, and the industry – was in the air, and it was plainly visible.
If you were there, thanks for joining us. If you missed it, please plan to join us at the next Greenlee Summit and experience for yourself such incredible passion. We look forward to seeing you there!
Rick Phillips is the Chair of the Greenlee School Advisory Council and the Chief Communications Officer for Nationwide.