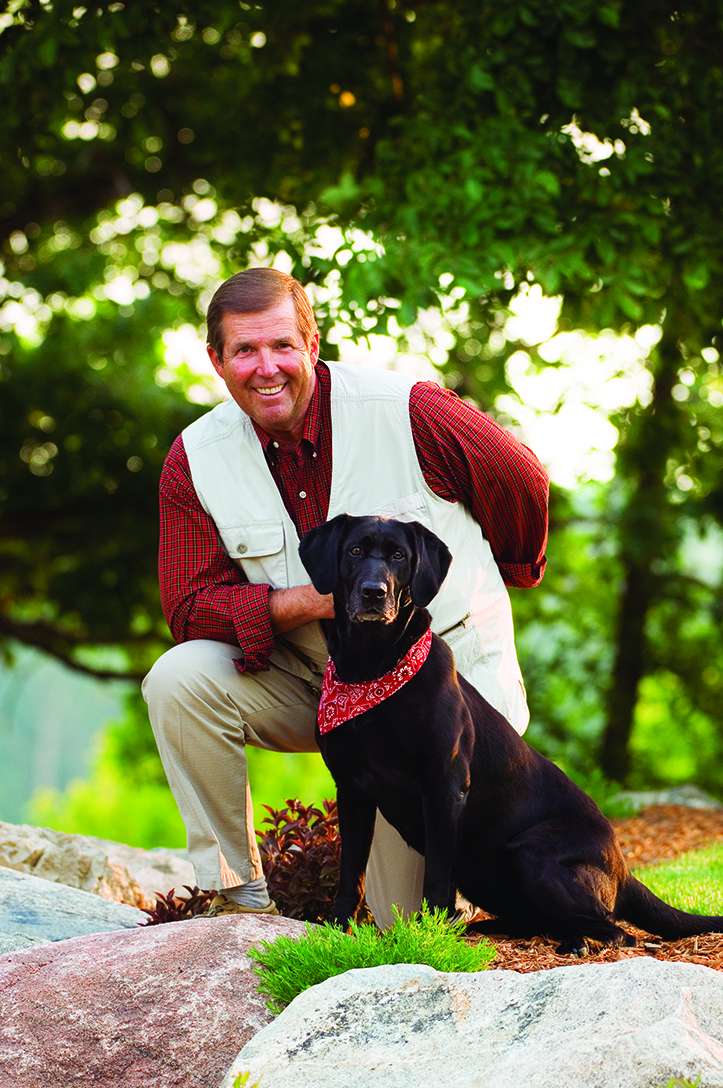 By Michael Heckle
Ron Schara, Greenlee alumnus and longtime outdoor columnist, explored another medium when he launched his television production company.
Ron Schara loves to tell a good story.
At 75, the Greenlee School alumnus has dedicated the better half of a century to chasing down tales of outdoor adventure, wildlife history and, on one memorable occasion, even Bigfoot, all with his trusted black lab Raven by his side. With a soothing voice and world-class smile, Schara has spent the last 20 years becoming a fixture of outdoor television, with long-running shows such as Minnesota Bound and Backroads with Ron and Raven acting as a testament to his expansive and wildly successful career.
But Schara is far more than a simple storyteller. He's a musician, an outdoorsman and a gifted entrepreneur who's carved out his own path and created a catalyst for his own success.
The founder of Ron Schara Productions, an Emmy Award-winning production house in the Twin Cities, the former outdoor columnist for the Minneapolis StarTribune turned a simple idea—to create an outdoor TV show that focused on storytelling—into legacy.
"I've always had it in my head that, when I saw some of these outdoor television shows, I could do better than that," he says.
A CHILDHOOD OUTDOORS
Schara grew up in Postville, a small town in northeast Iowa boasting limestone bluffs and trout streams, near the Mississippi River. It was the perfect place for a budding outdoorsman. As a boy, Schara spent his weekends along the river, fishing with his parents. His father introduced him to squirrel hunting and his uncles taught him to fly fish at a young age. One uncle even sent him a Japanese bamboo fly rod while fighting in the Korean War.
It was this lifelong love of the outdoors that inspired Schara to attend Iowa State even though he'd been granted a vocal music scholarship at a music college in Minneapolis.
"My interest at Iowa State was first of all fish and wildlife biology, but then I took a writing class," Schara says. "The journalism professors convinced me that I had a unique writing ability and that I should switch to journalism and keep fish and wildlife as a minor. That, too, was great advice, and I took it."
When Schara graduated in 1966, he found work writing and editing for the outdoor section of a local paper before joining the StarTribune as an outdoor columnist in 1968. He remained on the paper's staff for 25 years.
THE TRANSITION TO TELEVISION
Schara's first venture into TV, however, wasn't quite what he'd hoped it be. A few years before the debut of his first show, Minnesota Bound, Schara pieced together a crew and equipment for a low-budget production called North Country. The show, which Schara headed in addition to his job at the paper, would only run for a few weeks before losing its sponsorship.
"I said, 'Well, that's the end of my television career,'" he says with a chuckle.
And, for a few years, it was. Until one morning, Schara received a call from the news director of the local NBC TV affiliate. The director, according to Schara, was sick of the typical sports coverage; he liked to hunt and fish.
After that conversation, Minnesota Bound was born. Originally airing as 1- or 2-minute shorts in February 1995, the show became an almost instant success. Schara was soon given a 13-week contract and began to accumulate staff and equipment. That was 23 years, 700 episodes and 12 Emmys ago. Schara's company has since gone on to produce shows for Fox Sports, NBC, ESPN and the Outdoor Channel.
Unfortunately for Schara, his television success meant it was time to move on from the paper.
"It was a tough decision," Schara says. "My wife and I talked about it, because I had the best job in Minnesota. I got paid to hunt and fish, then write about it. But she said, 'Hey, you got to do what you got to do.' And I did. And now looking back, it was the best decision I could have made."
Today, Schara no longer owns the company he founded, but he still works as an executive producer and, along with Raven No. 3 (the granddaughter of his original black lab), is the star of multiple TV programs.
Schara's even inspired his daughters to follow in his entrepreneurial footsteps. His oldest, Simone, helps run a calendar business Schara founded shortly before stepping into television; his youngest, Laura, produces and stars in her own Ron Schara Productions show, Due North Outdoors.
As for being an entrepreneur, Schara is proud of what he's accomplished.
"The entrepreneur experience is so self-satisfying," he says. "Unless you've tried it, it's hard to explain the satisfaction you get out of it."
At the end of the day, Schara still gets the opportunity to tell the stories he wants to tell.
"For me, half a century I've been chasing outdoors stories and I still got to do it," Schara says. "I still get to do it."