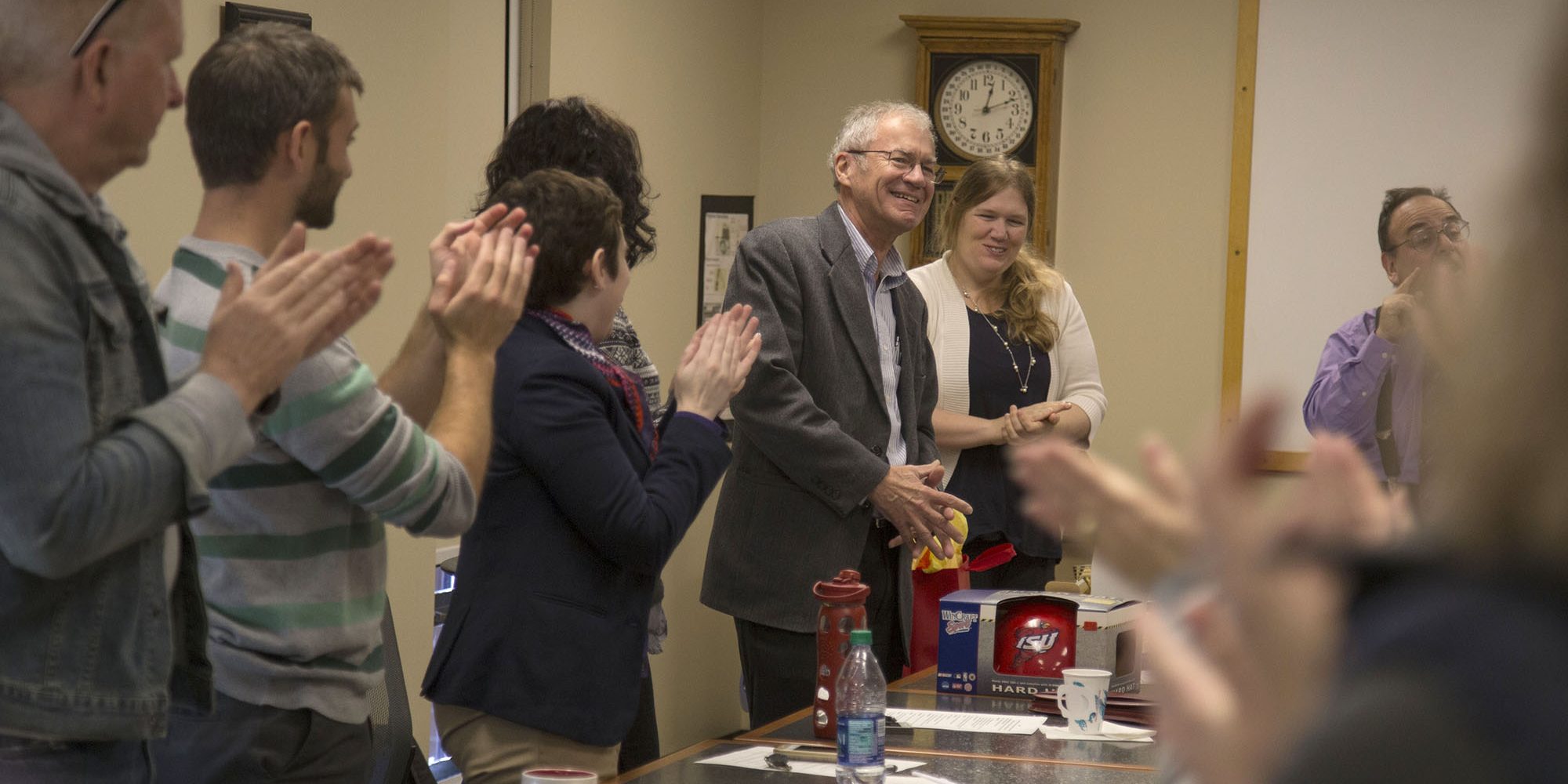 Eric Abbott caught the journalism bug at age 5, when he licked envelope stamps and worked with a dog columnist at a newspaper in Osceola, Iowa, where his father was an editor. Fast forward 60-plus years, and Abbott boasts a plumb-full resume, chock-full of 41 years teaching experience, research trips to dozens of countries, numerous awards and thousands of impacted students.
Abbott, Greenlee School professor and former director of the graduate program, officially retired in December, though he refers to the process as becoming "more gradually invisible," as he will still hold an office in the graduate student space and continue to work with graduate students.
"I'm easing out," Abbott, 70, said of his transition. "This is weird. I spend part of my time thinking, 'Gee I'm never going to do this again.' There's kind of a sadness about that. Interacting with students is one of the things that's been so wonderful."
Abbott started as an undergraduate student in science journalism at Iowa State about 53 years ago. At the time, the basement of Hamilton Hall was where the Iowa State Daily was printed, the journalism program was part of the College of Agriculture, journalists used typewriters and linotypes instead of computers and software, and the program enrolled about 140 students.
The Osceola native involved himself with the Iowa State Daily, where he followed in his father's footsteps to become editor in chief. Abbott said he and his father, Lyle C. Abbott, who was editor when the Daily was the ISU Student in 1942, are the only case of which he knows where the position of editor in chief became a family tradition. Abbott's uncle, H. Lee Schwanz, also held the title right after World War II, and who was editor when the ISU Student changed to the Iowa State Daily.
Abbott initially wanted to follow in his father's footsteps in a different way when he came to college. His father was a fighter pilot in World War II, and Abbott wanted to join the Marines to be a pilot. He didn't make the cut because of his vision.
"Now I say, 'Thank God I had poor vision,'" he says.
So Abbott immersed himself in agricultural journalism. He soon got the itch to go international with his skills. While an undergraduate student at Iowa State, he joined a YMCA program in the summer of 1965 to build a school in South America. Though he didn't see the school fully built, he says he knows it's now serving students who otherwise wouldn't have received an education.
Abbott studied abroad every year after that trip. He jokes that he didn't have a summer for five years. "But I loved it during that time."
Among Abbott's list of international travels is his 10 years of work as a social science specialist in Tajikistan. He returned there in November to help inform farmers how they can best divide their lands and learn their rights. This is a difficult task when the country boasts no roads or uniform method of communication.
He's also worked in partnership with Makerere University in Uganda to help show people how to deal with the country's major issues, such as AIDS and agricultural losses.
Abbott says people often ask, "Why is a journalism professor doing all this?"
Because, he says, he's got the skills and the experience in agricultural journalism.
And it all started within the walls of Hamilton Hall. Abbott spent countless hours of his undergrad years in Hamilton Hall and graduated from Iowa State in 1967. Upon graduation, Abbott said he was sure of two things. One, that he would leave Iowa. And two, that he would never teach.
That clearly changed. But not without a few twists and turns.
The Military Selective Service Act in 1967 required men to enlist in the Army, unless they were exempt, with one of those exemptions being graduate school enrollment. Abbott chose graduate school. But, Abbott said, the military needed more able-bodied young men, as December of 1968 was a low point in the Vietnam War, and he ended up receiving the draft notice anyway, on what he describes as a "dark day."
At the time, Abbott was enrolled at the University of Wisconsin. The school's chancellor told him he would defend Abbott if Abbott wanted to stay, but Abbott turned him down.
"I thought, 'Why am I special? Nobody wants to go," he recalls.
So Abbott went, but not before using the month he had left in Wisconsin to write a master's thesis. He defended the thesis the day before he left for basic training.
Abbott went through six weeks of basic training assuming he was one of the unlucky to be shipped to Vietnam. Because of his background in journalism, however, he was sent to fill a need at the Fort Carson Mountaineer at Fort Carson in Colorado as an editor and communications specialist.
"Now that was a great day," he said.
His time on the Mountaineer, from February 1969 to January 1971, Abbott said, helped him hone in on his interviewing skills, as he had to deal with people who often didn't want to be interviewed, such as generals and soldiers.
"Every experience in life is a learning experience," Abbott said.
After his return from Fort Carson, Abbott went on to receive a masters in agricultural journalism and a PhD in mass communications in 1974, both from the University of Wisconsin.
And then came the unexpected return to Iowa.
Abbott applied to a few places after graduating from University of Wisconsin and stumbled upon an opening at Iowa State.
In fact, the day he learned he was going to be returning to Iowa State as teacher about 41 years ago, a delivery truck rolled into Abbott's driveway and severed a telephone line. A line that would soon connect him with his future.
But no worries, Abbott can fix a telephone line.
"I had just went in the house (from repairing the line) and the phone rang and it was Iowa State offering me the job," Abbott said. "I accepted the position and never looked back."
Since then, he's stacked up numerous awards, including the Association for Communication Excellence International Award of Excellence, the Greenlee School Lou Thompson/Harry Heath advising award, the Liberal Arts and Sciences College International Faculty Award, the Certificate of Appreciation for two years of work in setting up ISU activities in Uganda among other projects he's worked on through the years.
All of this on top of teaching generations of journalists at his alma mater.
> "Every experience in life is a learning experience."
Giles Fowler, who taught writing and journalism classes at Iowa State from 1981 to 2003, team taught an editing class with Abbott twice, but says he and Abbott worked on "separate ends of the [journalism department] football field," as Fowler was more into writing and Abbott was more focused on his research. However, Fowler said he could tell Abbott's students respected him.
"He's an extraordinarily challenging teacher," Fowler, who marks his age as "an old guy," said. "He was popular with a lot of graduate students. His students adored him and that's a sign that you're good."
Among those students was April Eichmeier Zack, 39, of Madison, Wis., who received a bachelor's degree from Iowa State in advertising in 1999 and was one of Abbott's undergraduate research assistants. Working with Abbott, Eichmeier Zack said, ignited her passion for research.
"I could tell working with [Abbott] that he really was genuine," Eichmeier Zack said. "He was really involved in his research. It wasn't just something he did. It seemed like it got him up in the morning. His passion for research really shone through."
Eichmeier Zack, now teaching at the University of Wisconsin-Madison, has kept in touch with Abbott since 1999, she says, and recalls he was "instrumental in helping my career and really had an impact on my life."
She sat in Abbott's communication theory class and said his teaching style was engaging and passionate. She says she can't remember anything she wrote, but does remember how helpful Abbott was and his love for the subject.
Now, Abbott teaches technology and social change, which looks at how technologies interact with societies, and has led Iowa State's technology and social change interdepartmental minor for the last 15 years. He talks about the different technologies from various eras and how people use them, such as the extinct typewriter or linotype.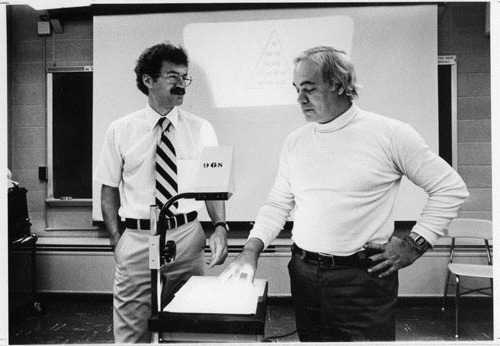 The classroom dynamic, much like the media industry, has changed, Abbott said, but the foundation of journalism hasn't. Though the students roaming Hamilton Hall today no longer carry ash trays, have tea or coffee pots available in class, use typewriters or have to sit in JL MC 201 for four hours twice a week, they all still learn the basics.
Abbott stresses four elements to all of his students:
Get outside yourself. "I don't care what you're interested in, it doesn't matter," he says. "Can you figure out what others want and need to know?"
How can you get the information? You have to know where to go and how to get information you need to always stay a step ahead of your audience.
How do we organize it? Ledes, tweets. Abbott says they're all similar. If you don't start it right, you won't capture your reader.
Channels of delivery: what's the best way to reach the audience?
"I've said these for 40 years and I think it's still going to be true after I leave, but the ways we do that have changed dramatically," Abbott said.
When Abbott isn't handing down his years of journalism experience in the classroom or informing farmers in Africa of their rights, he can be found bowling on Monday nights with the Greenlee School bowling team (which finished first in their league in the fall 2015 semester), riding RAGBRAI through the roads of Iowa or ballroom dancing with his wife, Tatyana Abbott, whom he met when she was touring Iowa State from Russia.
"I was impressed by his work. And I guess eventually we decided we liked each other enough," Tatyana, who at the time was head of the Department of Agriculture in Russia, chuckled.
But it didn't happen quite that easily. When the two met, she didn't speak a lick of English, and they had to communicate via translator and facial expressions.
Still, Tatyana was fascinated with Eric's work. "I was nonstop asking questions," she said in her Russian accent.
When the two didn't have a translator, Tatyana said it took a lot of facial expressions, hand gestures and dictionary page flipping to communicate, but they humorously made it work.
The pair married 13 years ago and Tatyana was soon immersed in a culture that was nearly the opposite of everything she grew up with. But she jumped right in, studying English for three hours every day for months.
Now the Abbotts enjoy daily walks to Brookside or Ada Hayden parks, cheering on the Cyclones at football and basketball games and bi-weekly visits to the ISU Ballroom Dancing Club on Friday nights.
"Students see me and they can't believe (teachers) have fun," Eric laughed, as he caught his wife sneaking a sip from his unguarded cup of tea.
They've gotten to be pretty skilled at ballroom dancing, even dancing at a Moulin Rouge show in Paris before the show started.
Traveling together is important to the Abbotts, and is something both of them want to do more of when Eric has a bit more time after the retirement. Tatyana has gone with Eric to Tajikistan on the work-related trips, but also wants to travel for leisure. The first stop? Hopefully Argentina.
Eric also hopes to spend more time with his family, including son Matt Abbott and daughter Rachel Rooke. He also said he looks forward to seeing more of his six grandchildren. He even hopes to bring out his old, aluminum rowboat to take his 11-year-old grandson, Alex Abbott, fishing, a sport he's had to push aside for more than 40 years to make time for his career and one he learned from his own father.
While Abbott says he's looking forward to that free time, he has been wrestling with the idea of no longer having the responsibility of teaching students.
Those students are going to be one of the main aspects of his career Abbott says he'll miss most, especially when teaching the beginning reporting and writing course, JL MC 201.
"From the first day to the last day, I see such improvements in students," he says. "They understand how difficult and challenging it is to do it right, but they say, 'Hey I can do this.'"
He won't be out the door just yet, though, as he'll still be working closely with a few graduate students and keep his current office in the graduate student space in the basement of Hamilton Hall.
Though he's traveled the world and even attended other universities for journalism, Abbott says one of the main ways Iowa State is ahead of the game is the way in which student publications are managed: by the students.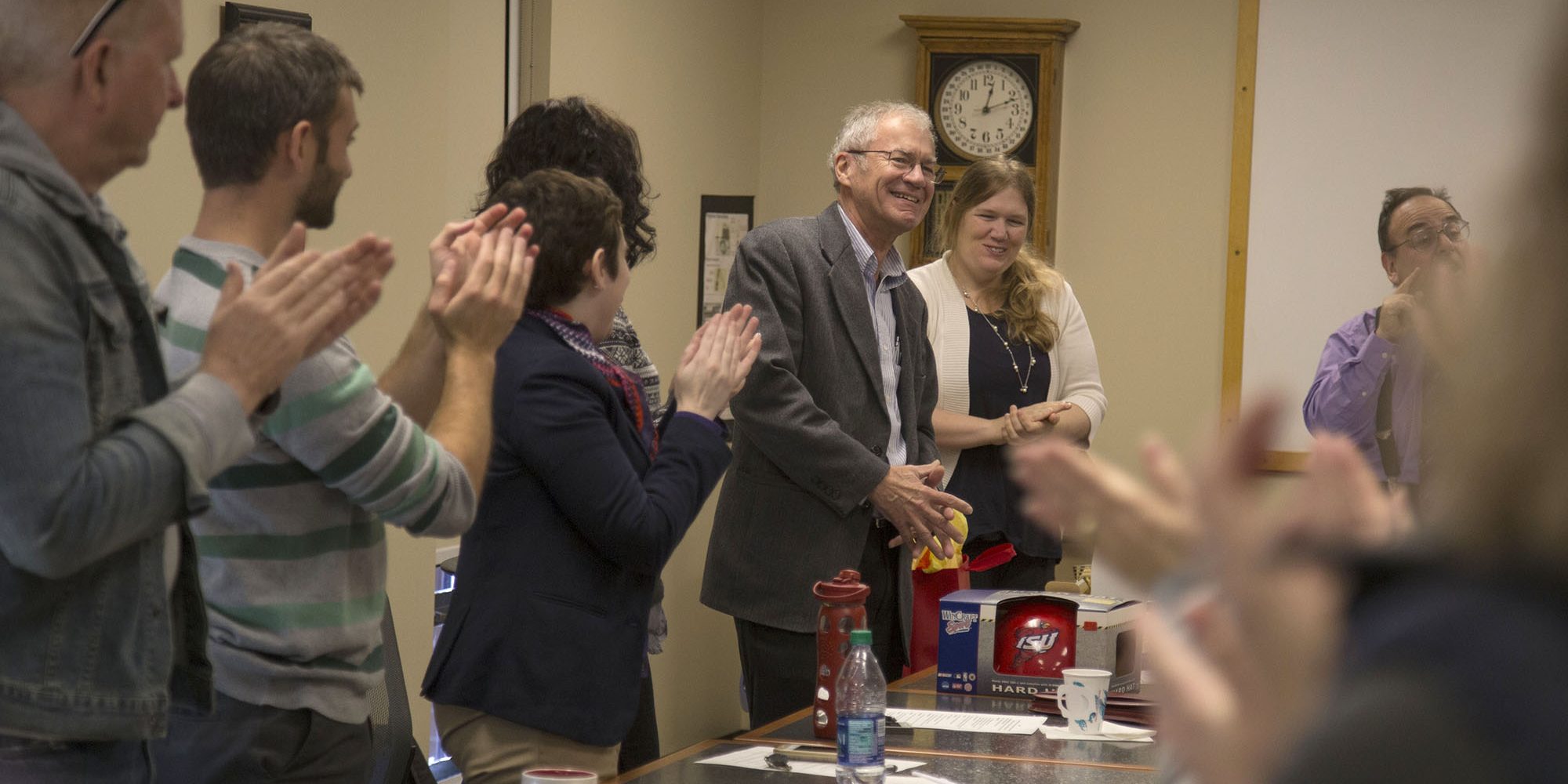 "You learn how to manage, and painfully so," he says. "It turned out that the ability to manage, was one of the best things that ever happened [to me]. Yes, there were things I would write about that I was excited about, but learning how to manage people turned out to be a very important thing. Students are learning the hard way, the direct way, on how to do things, and I think it's a strong part of our program."
Abbott can't predict what's going to happen in the future of journalism. Traditional job routes are no longer the norm and it's impossible to forecast how technology will evolve. But he says he knows the core values and the basic skillsets are still the most important. He'll always be a newspaper junkie. His interest sparked at age 5 and his love for the industry won't end with his retirement.
He says quietly with his head down, wearing a sly grin, "I'll probably die with a newspaper in my hand."