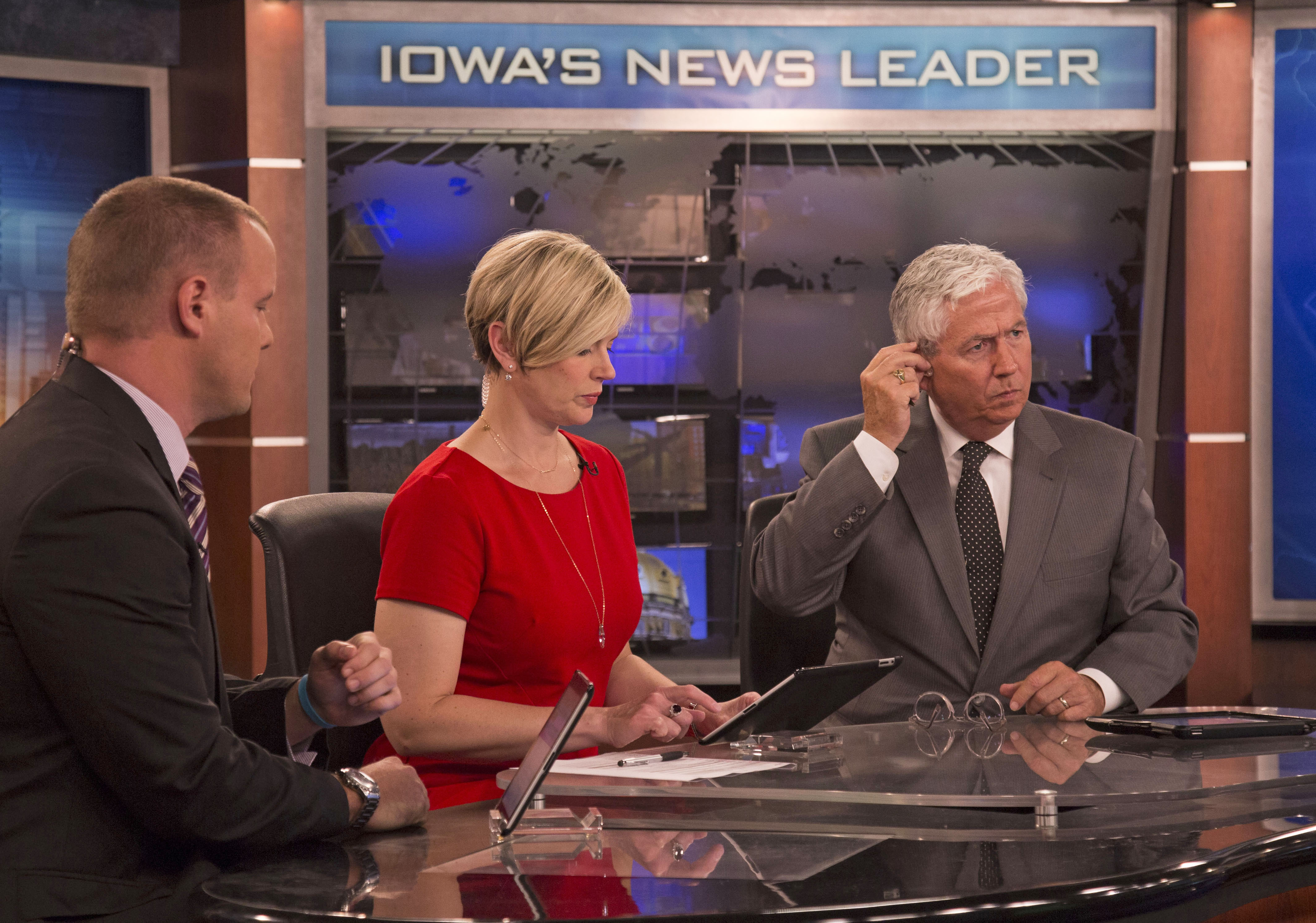 By Kevin Cooney
Where did it start? When? For years I've tried to pinpoint my obsession with story telling. There just doesn't seem to be a beginning, just as I assume there won't be an end. Let's go searching.
Maybe it started around the family dinner table. My dad, Jim Cooney, was a reporter, assistant city editor and eventually City Editor for the afternoon Des Moines Tribune.
Mom, Patricia Harvey Cooney got her start as the first female copy editor for the Register & Tribune in the 1940's. She would later become an award-winning feature reporter for the Sunday Register.
Two student journalists who met at Drake University before World War II and eventually raised their six kids in Beaverdale in northwest Des Moines.
You know the old saying about the two things you don't talk about in polite conversation– religion and politics? Those were about the only topics around the Cooney dinner table.
We'd talk about the news of the day from the classroom to the newsroom; Berlin wall to the Beatles. With all of us in Catholic school in the '60's, arguments often erupted over the many changes in the church. There were great debates. One was partially in Latin— hey, we were altar boys!
Maybe it started when Dad would let us come down to the Register newsroom on Saturday mornings to put the Tribune "to bed." Sending grease pencil messages through the pneumatic tubes to the guys in the composing room. Standing for what seemed like hours in the wire room watching as the news revealed itself before our eyes. We saw it even before the editors did!
Maybe it started that day in fourth grade at Holy Trinity when Den 3 of the Cub Scouts made a field trip to KRNT-TV to visit with Bill Riley on "Variety Theater," an afternoon cartoon show. We got a tour of the newsroom. I saw legendary broadcaster Russ Van Dyke.
Just like at the Register, I went right to the wire room, I was given a pile of AP wirephotos and Bill told me to share them with my fellow scouts.
I kept every one.
Maybe it started in seventh grade when Sister Donald had a "bulletin board newspaper." We wrote stories on the side half of our lined paper, and folded them to make "columns" like a newspaper.
Other kids wrote about their pets. I did a story on the 1965 floods with pictures from my Kodak Brownie box camera of an inundated Birdland Park and quotes from sand baggers.
Eventually, the combination of dining room debates and the curiosity about all things media gelled into more than an interest. By the time I was in high school, writing for the Dowling Aquin, I was starting to find my passion.
Junior year at Dowling it became obvious I did not share my older brother's football prowess, so I told legendary coach Jim Williams I was quitting and did what every child of a newsroom employee did. I got a job as a copy boy.
Sure, I was nothing more than a wire-ripping, coffee-fetching newsroom grunt. But this was just about as good as it could get. Hanging with reporters. Talking news. And sports. Spending hours in the photo lab, l watched as stories literally "developed." Fellow copy kids at the time included Julie Gammack, Bill Bryson and some gal named Barbara Mack.
Pretty good company.
You could feel the newsroom rumble when the presses fired up for the first edition and the best smell on earth was of newsprint and ink wafting up that narrow stairway leading from the pressroom.
> I wanted to write. Report. Tell stories. Photograph. Be places where things were happening. Learn about people by learning their stories.
But that nagging "TV thing" was always there. In a sense I was like any other baby boomer. What kid of the 50's and 60's wasn't fascinated with Edward R. Murrow's "wires and lights in a box?" I found myself in the right place at the right time…..
Before his newspaper days, Dad was a radio reporter. Decades later, while talking to an old broadcasting friend, he inquired whether there was anything at KRNT-TV a high school kid could do– because he had a high school kid who was nuts about TV.
Turns out, there was such a job. A ten hour a week tv production assistant's job was available and the production manager called me because "I heard you might be interested."
The Register newsroom was great, but now this 16 year-old was truly in hog-heaven. I got to "pull back the curtain" and learn the secrets behind the screen.
Less than 10 years earlier I was that Cub Scout stuffing KRNT wirephotos in my pockets. Now I was ripping those photos off for Russ Van Dyke, cleaning his glass weather maps twice a day and occasionally spiking the AE milk he used in the commercials with some bourbon extract from the studio kitchen.
Most of all, I was in a TV newsroom. We worked with film and video and audio tapes and editing machines. I watched as Ron Gonder, Al Buch, Jim Worthington, Paul Rhoades and Pete Taylor and many others reported, wrote and created.
This confirmed it. I wanted to write. Report. Tell stories. Photograph. Be places where things were happening. Learn about people by learning their stories.
I guess that's it. That was the moment it came together. I never wanted to leave.
---
As college looms, we all consider possible careers and it was no different for your average senior at Dowling in 1969 — and I do mean average! The only question was where would I find a school that would be a good fit for an average aspiring writer/journalist/screenwriter/photographer/director/undecided 17 year old?
With two siblings in college and three more at home, it was pretty clear my college exploration would be at my time and expense which immediately ruled out that USC/UCLA "west coast swing."
I also discovered Northwestern's emphasis was more at the graduate level, so I headed over to Iowa City where I was told journalism was about print and I wouldn't take a journalism course until my junior year anyway. They didn't know what to do with someone interested in broadcast journalism, and sent me to talk to a teacher in film studies. He was more into Ingmar Bergman than David Brinkley.
Bye Bye, Iowa City.
Sensing a bit of confusion, Dad suggested Iowa State. I had only been on the Ames campus once before for a Veishea weekend that's as fuzzy now as it was back then. That's probably because of a party at "the Bins," a rather strange duplex made of grain bins, which I believe is still located somewhere in a residential area between the Towers and campus.
Iowa State? Cow College! Too damn close to home! Why would I even consider it?
But Dad again reached back into his broadcast past and pointed out a longtime radio-TV journalist we all knew of, who was now teaching at Iowa State and suggested that we should go up for a visit.
"Hello Jim!"
Jack Shelley's voice was unique in broadcasting and in person. Within three syllables, probably fewer, you knew who was speaking.
He greeted us in his second story office one morning and he and dad reminisced about the old radio days for a spell. Then he asked me what I was interested in.
I recall saying I was interested in just about everything broadcast and journalism. And received a "you've come to the right place" type of answer.
I still wasn't buying it…
The Press Building (which later became Hamilton Hall) was not much more than a collection of classrooms—some with typewriters.
Professor Shelley's personally-guided tour started at the Iowa State Daily offices and finished across the hall at the photo lab. There was little, if any, actual broadcasting equipment and no studios in the building. Some aging film cameras were available to look at but they didn't work.
But ISU had Jack Shelley who knew how to sell this still new broadcast emphasis program he was spearheading.
And most of all he was a real journalist.
I had known of Jack all my life of course. He had been the "other guy" on the Des Moines news (remember, we were a channel 8 household and Shelley was on 13.) Russ VanDyke and Paul Rhoades had plenty of positives to say about Shelley during my first year at KRNT. Shelley's enthusiasm for the craft and the classroom was contagious.
I was starting to re-think this Moo U thing.
---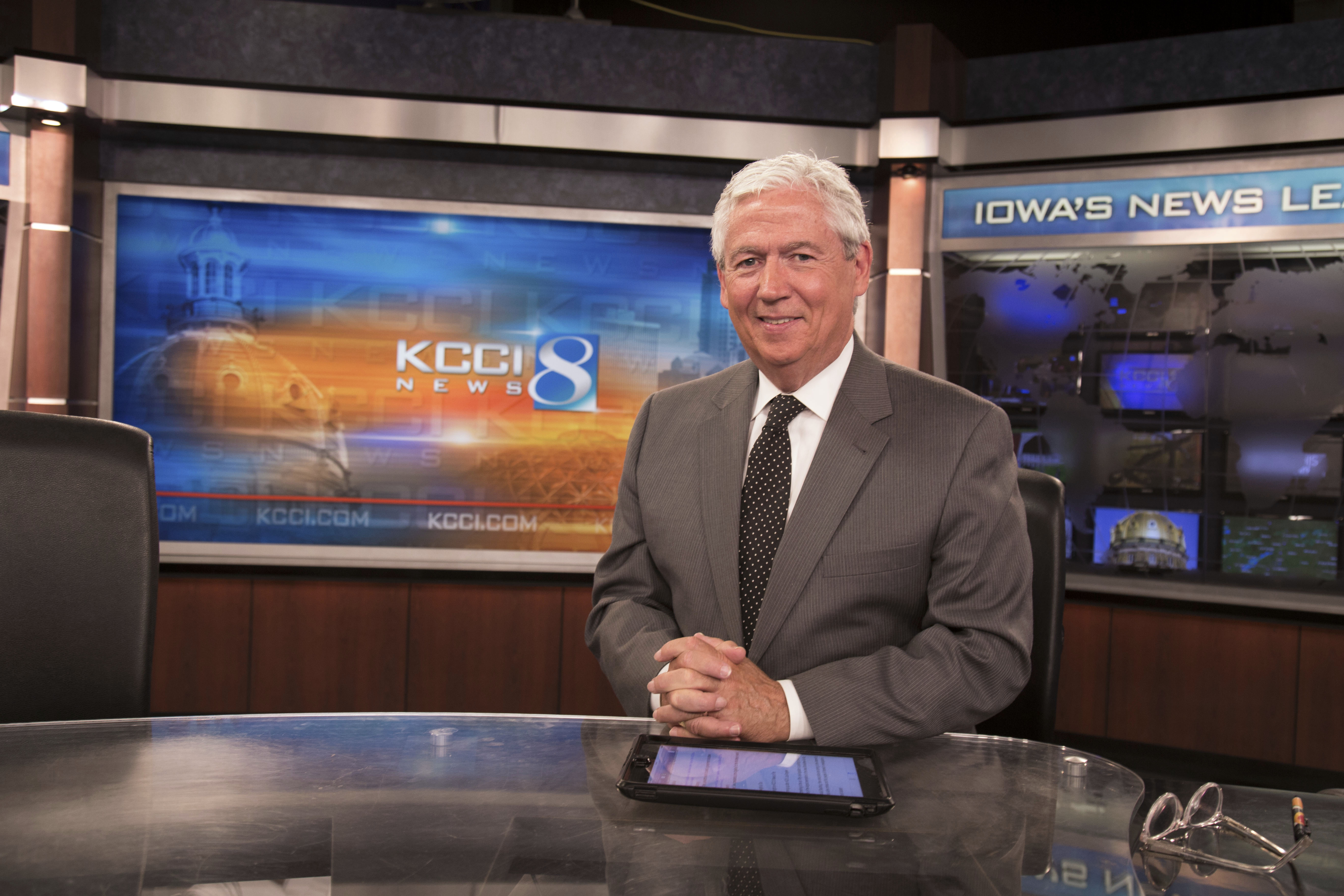 Turns out those TV cameras and microphones were across campus in what was called TCA. Telecommunicative Arts was part of the English department, which is where someone had pigeon-holed me.
After convincing them I wanted to major in journalism, not English, I had a new major, a new advisor (Shelley) and the worst schedule in the history of ISU.
As Meat Loaf would say much later, "Two outta three ain't bad."
Classes starting at 8 a.m. Monday and ended at 6 p.m. Friday were acceptable, because it allowed me to take "Introduction to Journalism," which Professor Shelley taught. I can still plot out the "Berlo Model of Communications."
Maybe it was luck, maybe it was Shelley again, but my second quarter I got into a 300-level photography course and a 200-level reporting course. I was off and running.
What followed was a series of classes that didn't seem like classes. I'm certain those with other passions for areas like sociology or chemistry or computer science can relate; Kunerth's reporting sequence; Blinn's mass communication law; Bob Johnson's photography courses and, of course, Jack Shelley's broadcast journalism classes topped it all off.
But in a blink, it was over. By the second quarter of my junior year, Department Chair Jim Schwartz called me up and told me to come to his office—he "wanted to talk."
Pretty good way to scare the crap out of student, Dr. Schwartz!
Turns out he had good news—and bad.
"You've taken more than enough hours for your major," he told me. "Unless you're going to teach journalism, you should think of taking courses outside the department."
He said I wouldn't be reporting about journalism, but instead on politics and civics and society and science. So, he said, take courses that will help me understand those areas and others.
I did as he said.
The ISU years were filled with true "learning experiences." Some examples: I went into Shelley's office in the fall of 1971 to tell him I had learned pretty much everything I needed to learn in journalism, and would be leaving ISU effective the winter quarter.
Shelley didn't try too hard to talk me out of it, but in case I changed my mind he reminded me of the last day for late registration.
Three weeks later, I was in his office pleading with him to get me re-enrolled. Even he couldn't bend the rules that much. He told me to enjoy the time off and he'd see me for spring quarter. I did as he said, too.
A week doesn't go by that I don't use a skill that was honed in Kunerth's reporting classes or Johnson's photography courses.
I still consult Rod Fox's book: "Creative News Photography."
Jerry Nelson taught an incredible course that looked at the future of mass communication. I remember the laughter at the concept of a 24-hour news channel. And televisions with hundreds of channels delivered by satellites? Nelson was a Nostradamus.
As we watched Watergate unfold and a presidency implode, we also noticed a boom in the number of Woodward & Bernstein wannabes. Those of us in the early 70's were in journalism "before it was cool."
I remember Barbara Mack's laughable and legendary arguments with Jack Shelley that cannot be repeated here.
I also remember noticing a very smart, very funny and very personable student with whom I shared a love of reporting… and sarcasm. Mollie Smith and I would get married several years later.
---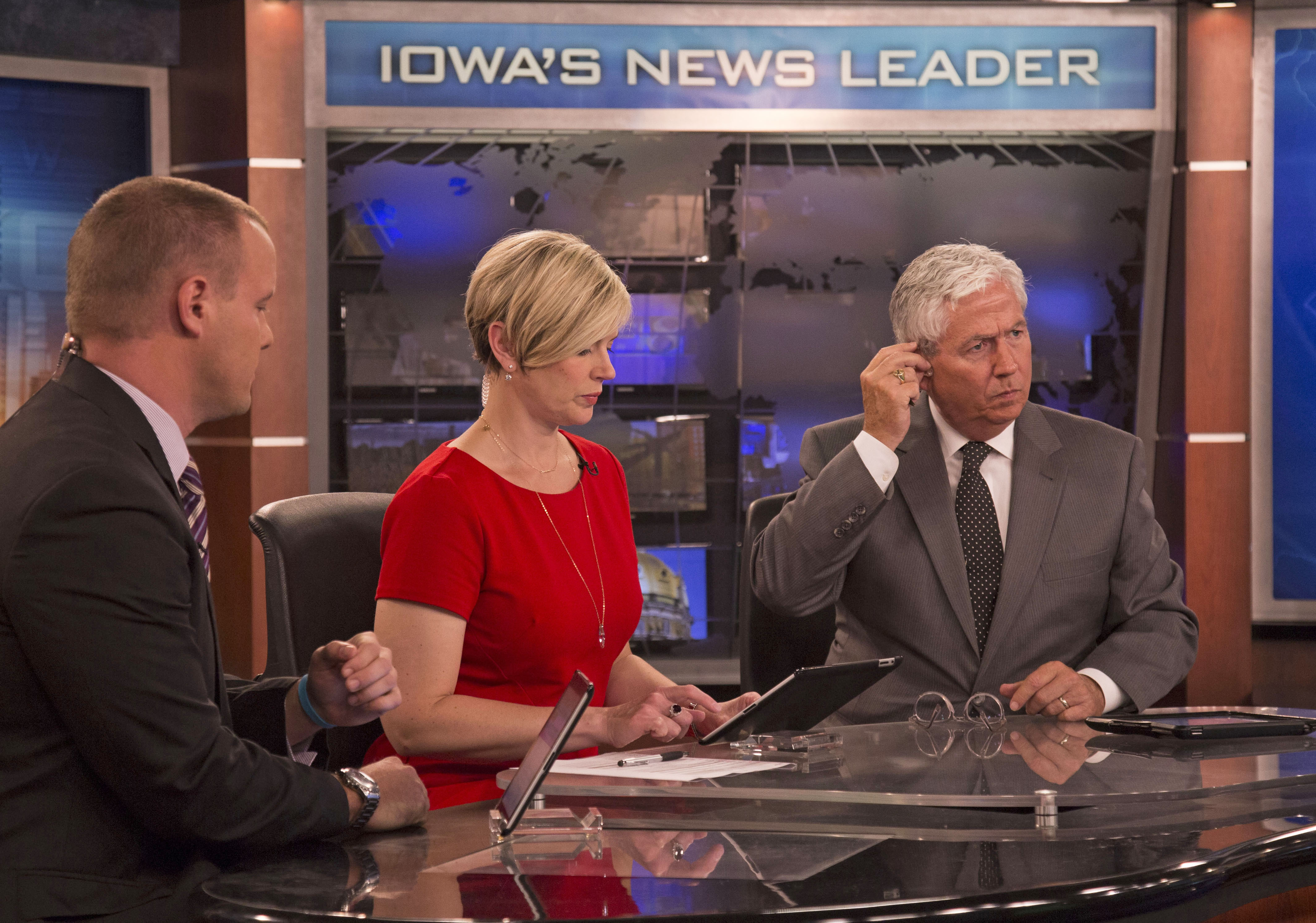 It's been more than four decades since I skipped the graduation ceremony (Hey, it was the 70's. I was stupid.)
Like many careers, this one evolved with highs and lows. There were floods, and caucuses. Big stories and small.
I've been lucky enough to talk with presidents in the White House and while flying over the Midwest aboard Air Force One and in the midst of a flooded Fleur Drive in Des Moines.
Many times, the experiences have wound back through Iowa State.
In 1991 I was sent to Germany to cover the release of ISU alum Thomas Sutherland who had been kidnapped and held hostage for more than 6 years in Lebanon.
He told the touching story of hearing the bells of the campanile ringing one Christmas eve, in a broadcast from the BBC.
Several days later when hostage Terry Anderson, a fellow JL MC '74 alum and co-worker at KRNT, was released, I returned to Germany to cover the story—with the gift of an Iowa State sweatshirt.
There have been disasters and debates and inaugurations and investigations.
Listing where one has been and who one has met is kind of like listening to another "What I Did on My Summer Vacation" essay. So I'll stop here. I'm much more interested in what others have been doing than talking about my escapades.
Let's just say once a reporter, always a reporter.
Let's just say thanks. To Schwartz and Shelley and Blinn and Kunerth and Johnson and Nelson and Rod Fox who never taught me in class but taught me so much about photography. And life.
Let's just say thanks to Dad and Mom.
And Mollie.
Let's just say it's been a blast!