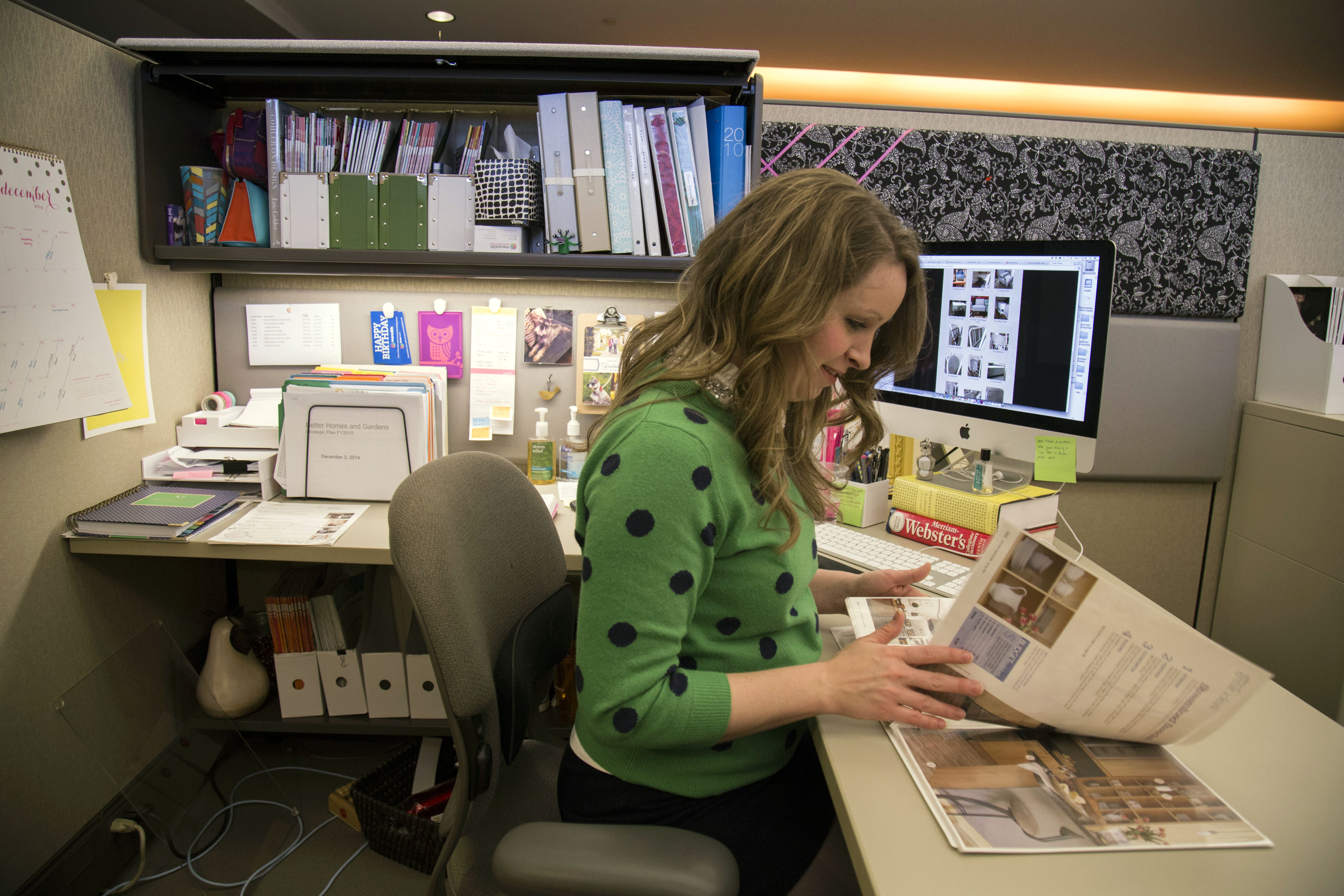 Rachel (Weber) Haugo, '07, keeps a binder of her work as an editorial apprentice at "Kitchen + Bath Makeovers" in her former supervisor's cubicle at Meredith Corporation's headquarters in Des Moines. Seven years and four other positions later at Meredith, Haugo is now editor of "Kitchen + Bath Makeovers," a position her former supervisor Marie McCartan encouraged her to apply for when McCartan announced her retirement last spring.
"It's kind of funny looking back at it," Haugo laughs, flipping through the magazine spreads she created as an apprentice seven years ago and commenting on what she would do differently today.
Haugo was one of five students in the third year of the Greenlee School's Meredith Apprentice Program. Since it launched in 2004 (a year after it started at Drake University in Des Moines), 67 MAP students have graduated with résumés boasting an academic year of experience working for one of the top magazine publishers in the nation.
Today the joint venture program selects eight ISU students — with three graphic design positions added in 2008 — to work for Meredith departments throughout an academic year. The program was the result of a push by Meredith's chairman and CEO Steve Lacy to improve the Fortune 500 Company's internship program.
Previously, the company only offered a formal summer internship program. Those 10-week internships gave students enough time to acclimate to their roles, but not enough time for them to take on real responsibilities. Lacy envisioned a program where students "could be a contributor to our organization and the success of Meredith and also to get the necessary benefit for their own careers," says Art Slusark, vice president of corporate communications and government relations for Meredith.
"When you look at the editorial side of Meredith, Drake and Iowa State are the two schools that provide us with the bulk of our graduates," Slusark says. This made an apprentice program at both schools a logical answer to Lacy's vision.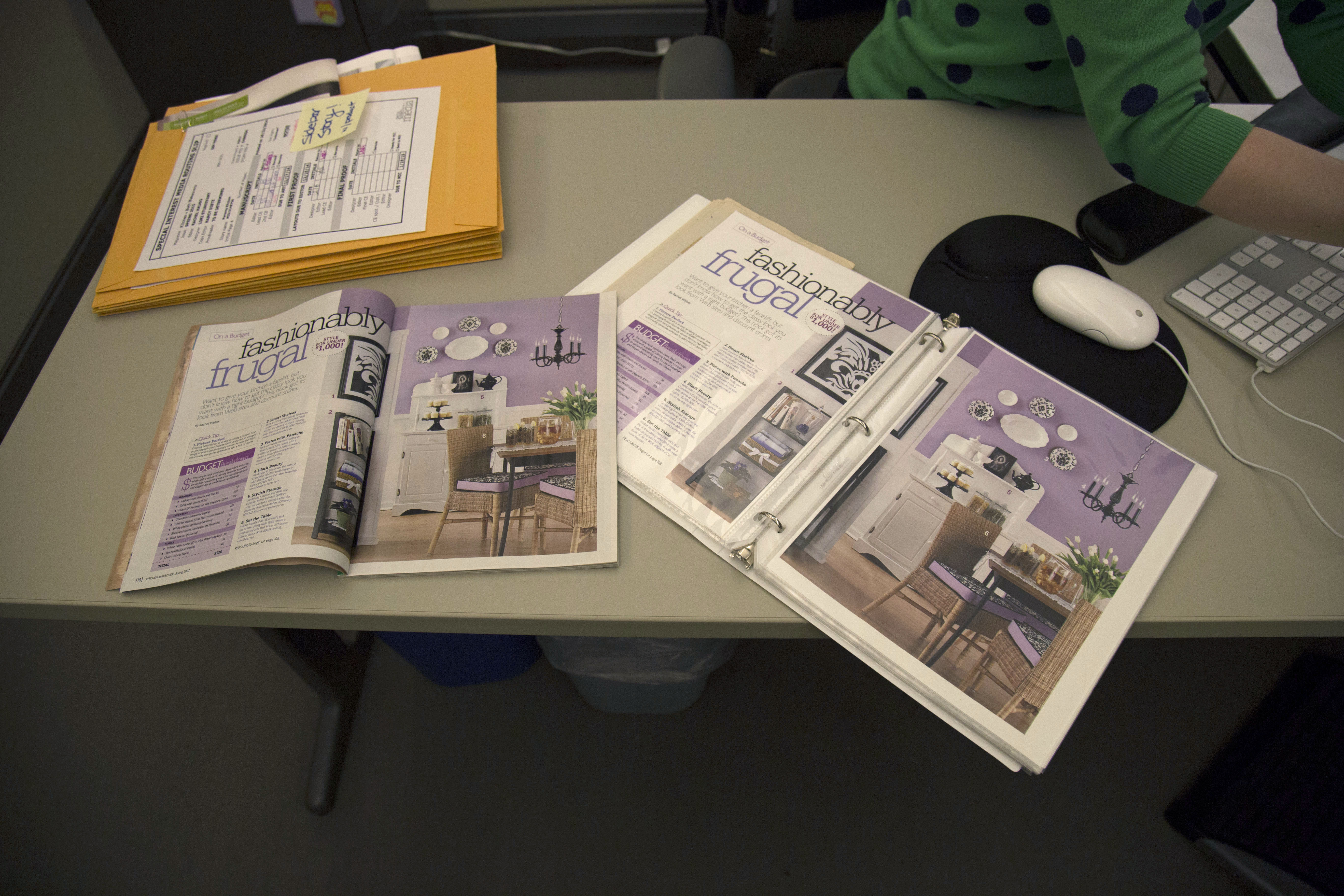 Throughout the yearlong apprenticeships, students receive unforgettable first-hand experiences working on the publisher's myriad ventures. Haugo's 52-page binder, a collection of rejuvenated bathrooms, kitchens and dining areas — considered adjacent spaces and thus acceptable in "Kitchen + Bathroom Makeovers" — attest to the program's success, even in its early years.
Turning to a purple dining nook, complete with black-and-white furniture and fixtures and wicker chairs, Haugo doesn't need the notes that detail her contributions to each spread to recall her work.
"I produced the whole story as an apprentice, with absolutely zero background in… that," says Haugo. Dubbed "Fashionably Frugal," the article highlighted ways to revamp a dining space for under $1,000 and was the first story she researched, wrote and brought to life for the magazine.
Haugo recalls researching the "in" color for spring 2007, going through Meredith's creative library to find the pieces she wanted to feature, driving a Meredith van to the Minneapolis Ikea store to pick up the spread's wicker chairs and even grabbing the potted purple flowers from a coworker's cubicle to use in the photo shoot for the magazine's spring 2007 issue.
> "You just get a really good, very realistic taste of the magazine world when you're a Meredith apprentice. That exposure is just phenomenal and it's nothing we can replicate in the classroom," says Debra Gibson, senior lecturer and Meredith Professional-in-Residence.
The freedom McCartan gave Haugo as an apprentice strongly influenced Haugo's decision to work in the magazine industry. As a student, she changed her major five times before settling on journalism and mass communication and describes herself as having been "painfully shy."
"Being treated like a regular employee at Meredith made me feel really valued and that I could contribute. It just made me feel comfortable about what I could do," says Haugo. Like several others before and after her, Haugo gained a professional sense of direction from her apprenticeship experiences, one that led her — and several other former ISU apprentices — back to Meredith after graduating.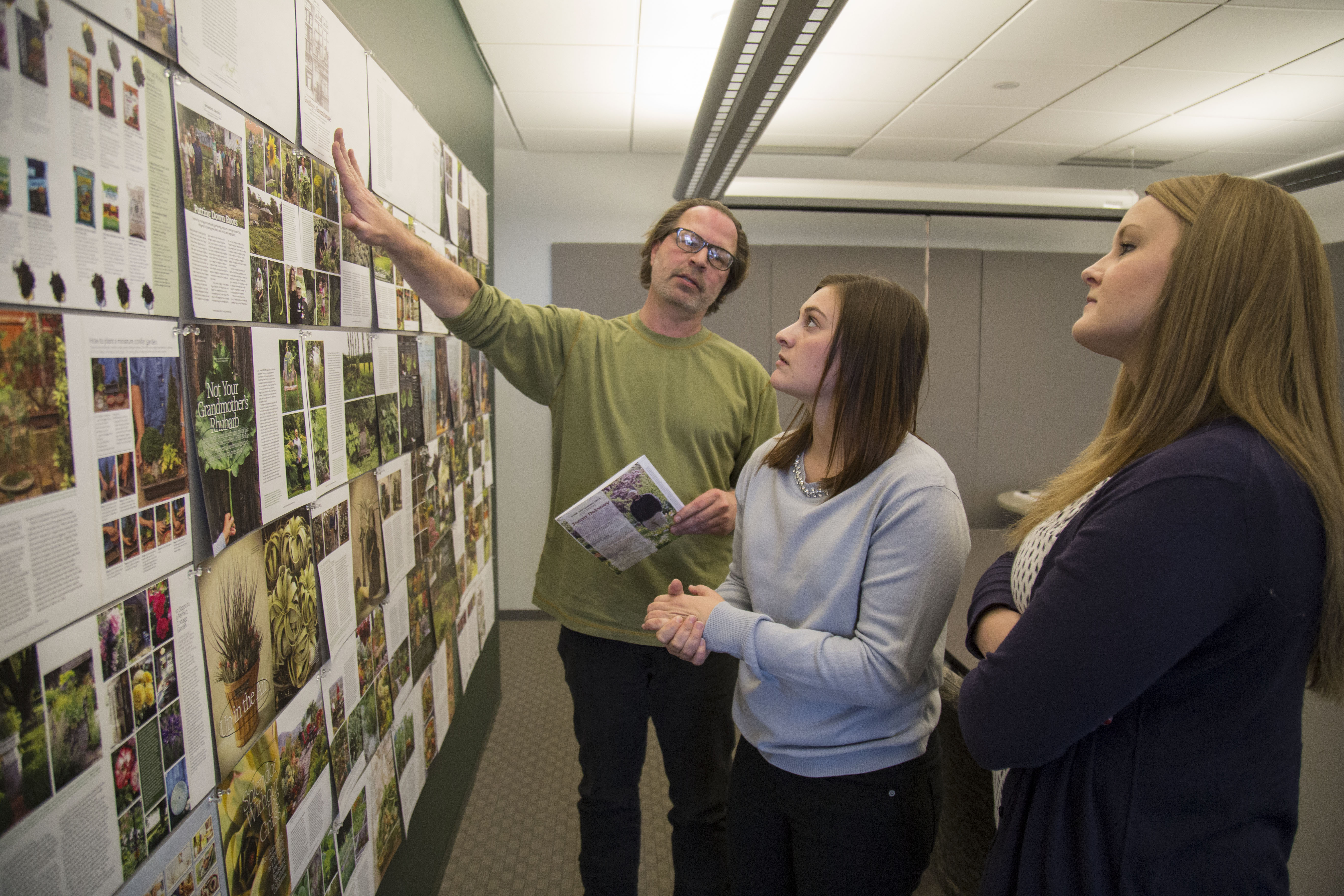 An invaluable experience:
Apprentices have been diving into their roles at Meredith since the first class made the 40-minute commute from Ames in 2004. Kelly (Kunkel) Eagle, '05, was among the first five to represent the Greenlee School. "To walk into BHG in the very first semester of my senior year of college was intimidating, but the nice thing was that I think everyone was so excited to not only have help on staff, but to be able to share their knowledge," Eagle says.
Eagle's apprenticeship with "Better Homes and Gardens" was designed for her to work at several of the magazine's departments – home design, gardening and features — throughout her year there. Though she worked for student publications at Iowa State, Eagle was fascinated by the realities of the industry she experienced as an apprentice.
"It was interesting to go to BHG during the day, a very traditional and broad publication focused towards women, and then come back and write this edgier, kind of snarky, college mag," Eagle recalls of her experience as an "Ethos magazine" staff writer.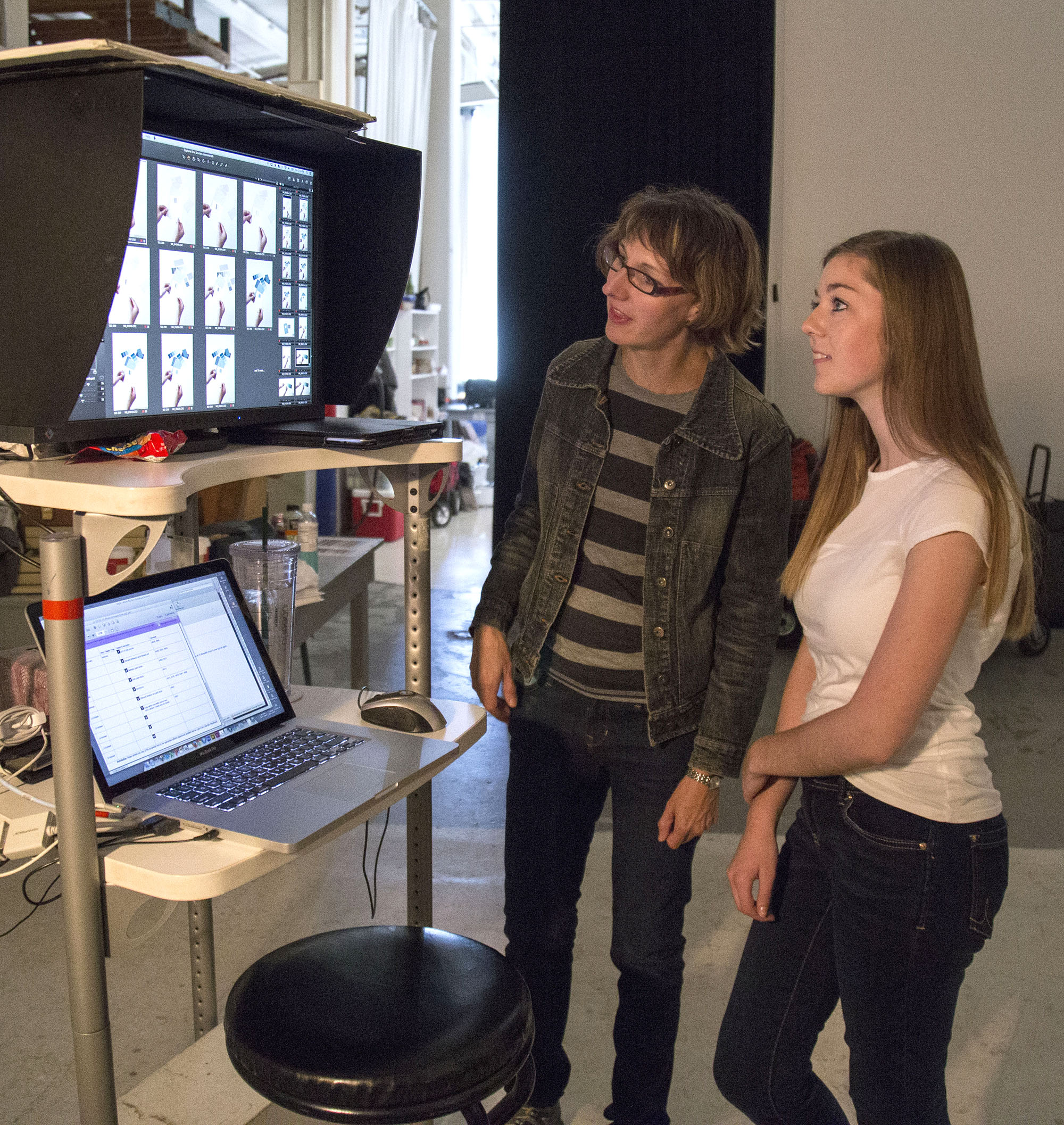 BHG's approach to its brand and how that shaped its editorial process was a major takeaway for Eagle. To this day, she recalls how amazed she was hearing her editors contemplate whether "she" would find proposed stories interesting — "she" being the magazine's demographic.
"Narrowing down a brand and a scope as big as 'Better Homes and Gardens' to a singular person was the first time I'd ever seen that approach," Eagle says. "It was like they knew her personally, like she was their friend and they knew what she would like. Coming at a brand that way was a completely new experience for me, but I think it shaped the way that I think about brands in general."
Throughout MAP's 11 years at Iowa State, Deb (Solberg) Gibson, '81, has supervised the university's apprentices. In her role as the Greenlee School's Meredith professional-in-residence, Gibson acts as the point person between the university and Meredith editors who supervise ISU apprentices. In monitoring apprentices' progress throughout each school year, Gibson hears how her students' lives are changed by these opportunities.
"You just get a really good, very realistic taste of the magazine world when you're a Meredith apprentice," says Gibson, senior lecturer. "That exposure is just phenomenal and it's nothing we can replicate in the classroom."
Though apprentices are more qualified than ever, Gibson still observes them growing tremendously throughout their yearlong appointments. In the last decade, Gibson has seen the program go from an under-the-radar opportunity that required heavy recruiting into a highly competitive career starter for Greenlee's best and brightest.
"I think my apprenticeship made all the difference in the world," says Eagle, who firmly believes that having "Better Homes and Gardens" on her résumé got her hired at her first post-graduation job with "Atlanta Homes & Lifestyles." Eagle's professional progression shows the value of an apprenticeship. Whether serving on the editorial or digital sides of publications and startups, her expertise has allowed her to work for magazines, startups and currently at LS2 Group, a public relations and marketing agency in Des Moines.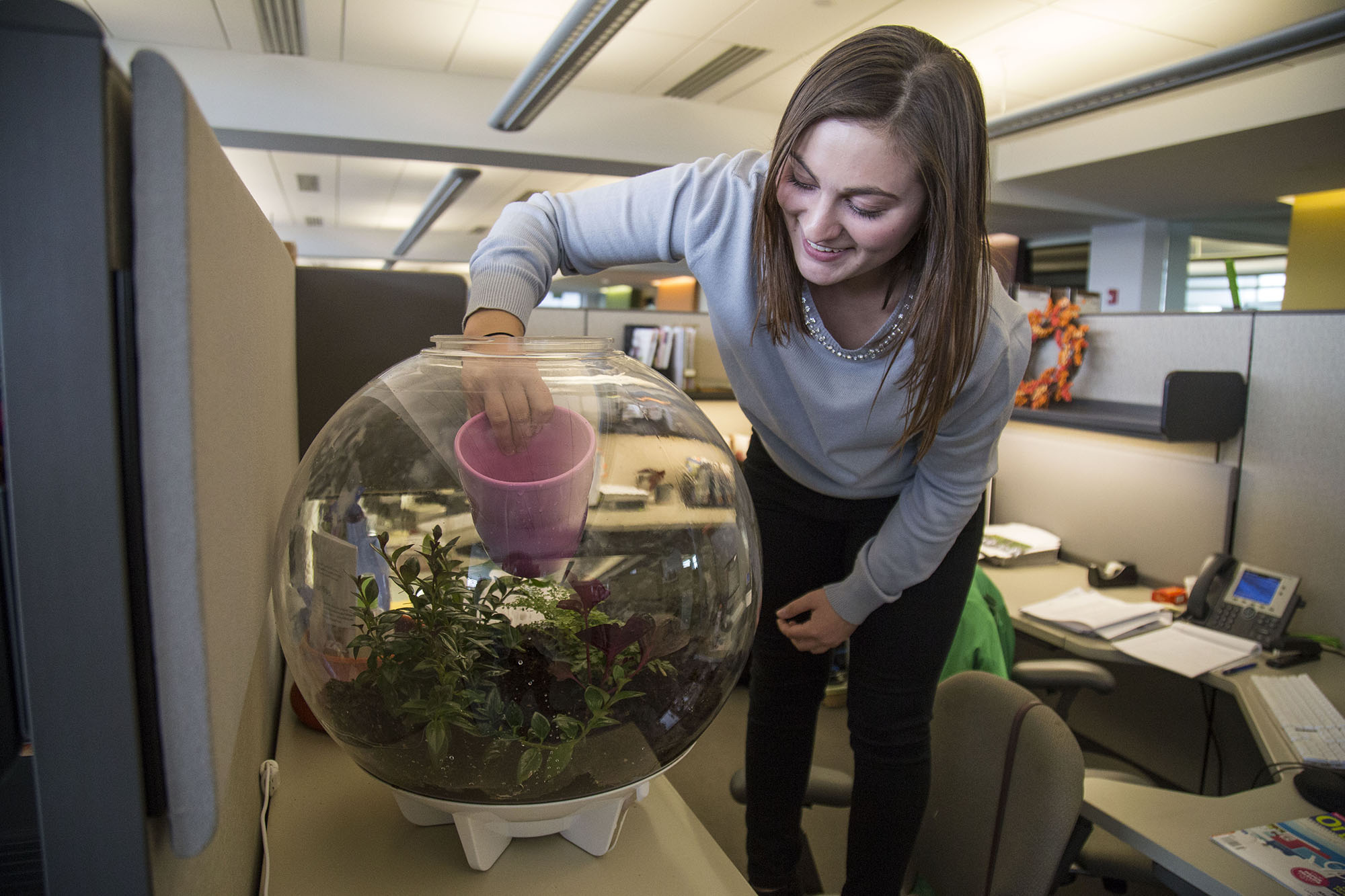 John Lonsdale, '13, was also a BHG apprentice his senior year. Today he works as an assistant digital editor at MensJournal.com in New York City, a position he landed after working as an assistant editor at "Better Homes and Gardens" for just over a year after graduating.
"Everyone, especially my mentors there, were so incredibly helpful and encouraging and patient. I learned a lot about the publishing process, and I'm still finding so many ways that my apprenticeship helped me prepare for being in this field," Lonsdale says. "Going to class and working on student publications, you learn a ton. But having the opportunity to go into work every couple days, get paid and see your byline in a magazine on a newsstand in the east Ames Hy-Vee was crazy."
But there's even more to the MAP experience than writing stories for national titles like "Better Homes and Gardens." Apprentices may assist with or model in photo shoots, design pages or web content, taste-test and write recipes, research and test new products or produce content for the web or radio.
While this may seem like a lot for students who often take on a full-time course load, Karla Walsh, '10, says Meredith's work culture is a perfect fit for busy apprentices.
"I think that all students are treated like equals, with respect, and you're able to have that work-life balance that I found at other publishing companies you just can't have," says Walsh. "Here they value the fact that people have things outside of work and that makes them able to contribute at a higher quality level when they are here, if they have that balance in their life."
Walsh completed an apprenticeship with Meredith Xcelerated Marketing (formerly Meredith Integrated Marketing) her junior year, and was accepted for an internship with the American Society of Magazine Editors in New York City. She was assigned to "Fitness", another Meredith title, through ASME, and returned to "Fitness" as an editorial assistant after graduating.
After two years, Walsh wound up back at Meredith headquarters in Des Moines. Today she's a digital food editor for BHG.com, where she works alongside fellow ISU MAP alumna Sheena Chihak, '06.
"[Apprenticeships are] a great way to get your foot in the door and I think it works out well for the Meredith employees too, to find the people that work well within their group and bring them back if it works out," Walsh says.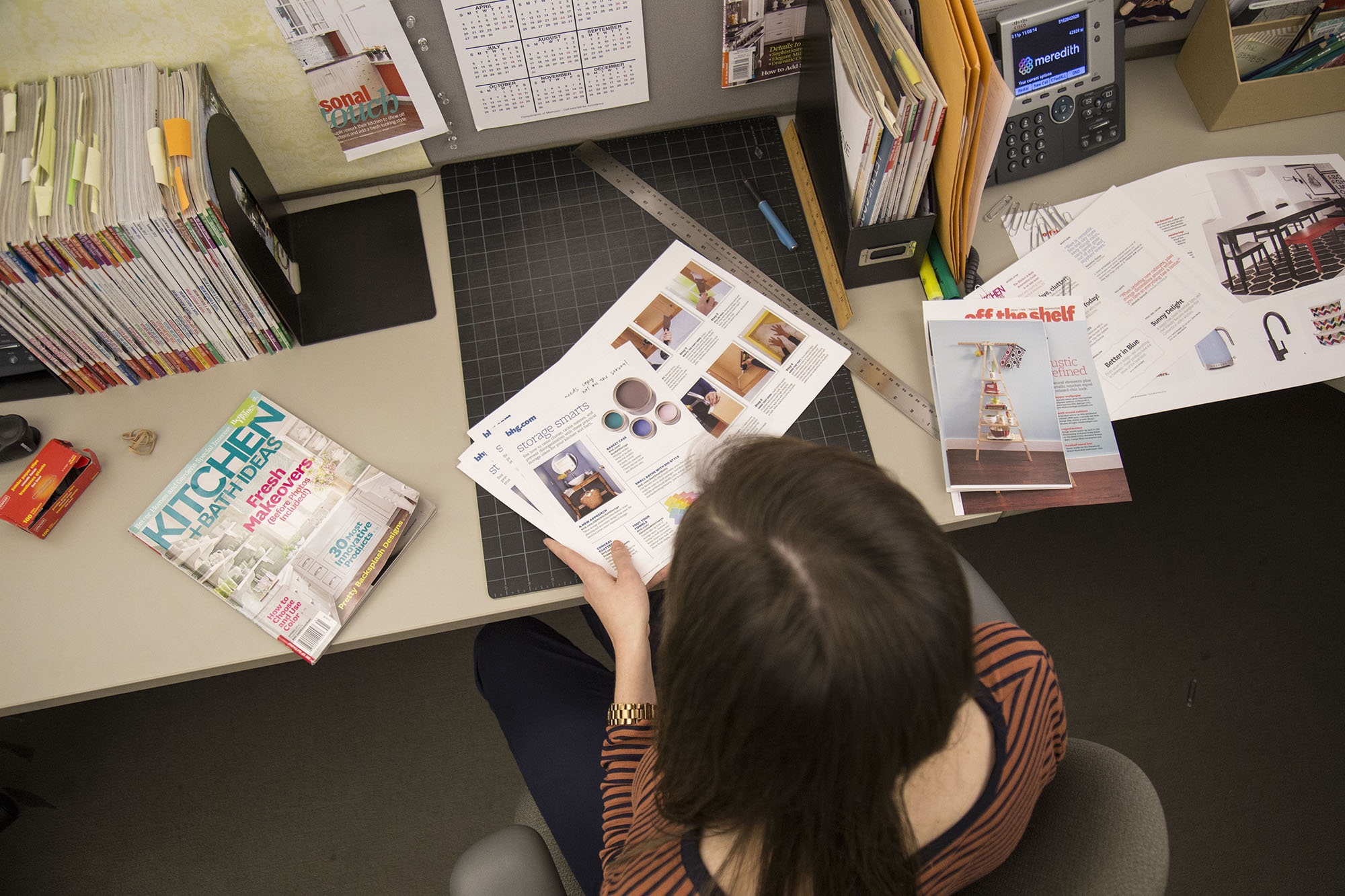 A Perfect Pair:
Apprentices' success isn't all about the luck of the draw. In addition to supervising ISU apprentices, Gibson also works to recruit the best students for the positions. It's more than recruiting, though; it's matchmaking.
Each year editors from various Meredith titles apply to host an apprentice. Departments like BHG.com, "Diabetic Living" and Meredith Xcelerated Marketing regularly host apprentices, while others change from year to year. From the program's beginning, Gibson has worked to match apprentices with each year's titles while ensuring the School will be well represented.
"When I look at those five women who started [in 2004], they were just all powerhouses, and the quality of students we're sending down there has not waned whatsoever," Gibson says. "Once this program got going and people really understood what it was and it became more attractive to more people, it became more competitive."
> "I can safely say that Meredith Corporation has changed the lives of many of our graduates and enriched them," says Greenlee School Director Michael Bugeja.
Where applicants were once writers for student publications like "Ethos magazine" or the "Iowa State Daily," applicants these days are often top editors at campus publications, who usually have some previous internship or professional work experience. Gibson recruits many apprentices from the magazine courses she teaches.
For apprentices like Jessica Tull, senior in journalism and mass communication and apprentice with "Kraft Food and Family," Meredith's emphasis on its employees' work-life balance has proven invaluable. Tull is the first non-traditional student accepted to the apprentice program. In addition to her apprenticeship, fall semester she took 16 credit hours and a copy-editing position with "Sir magazine," a student publication, all with a 1-year-old daughter and husband at home.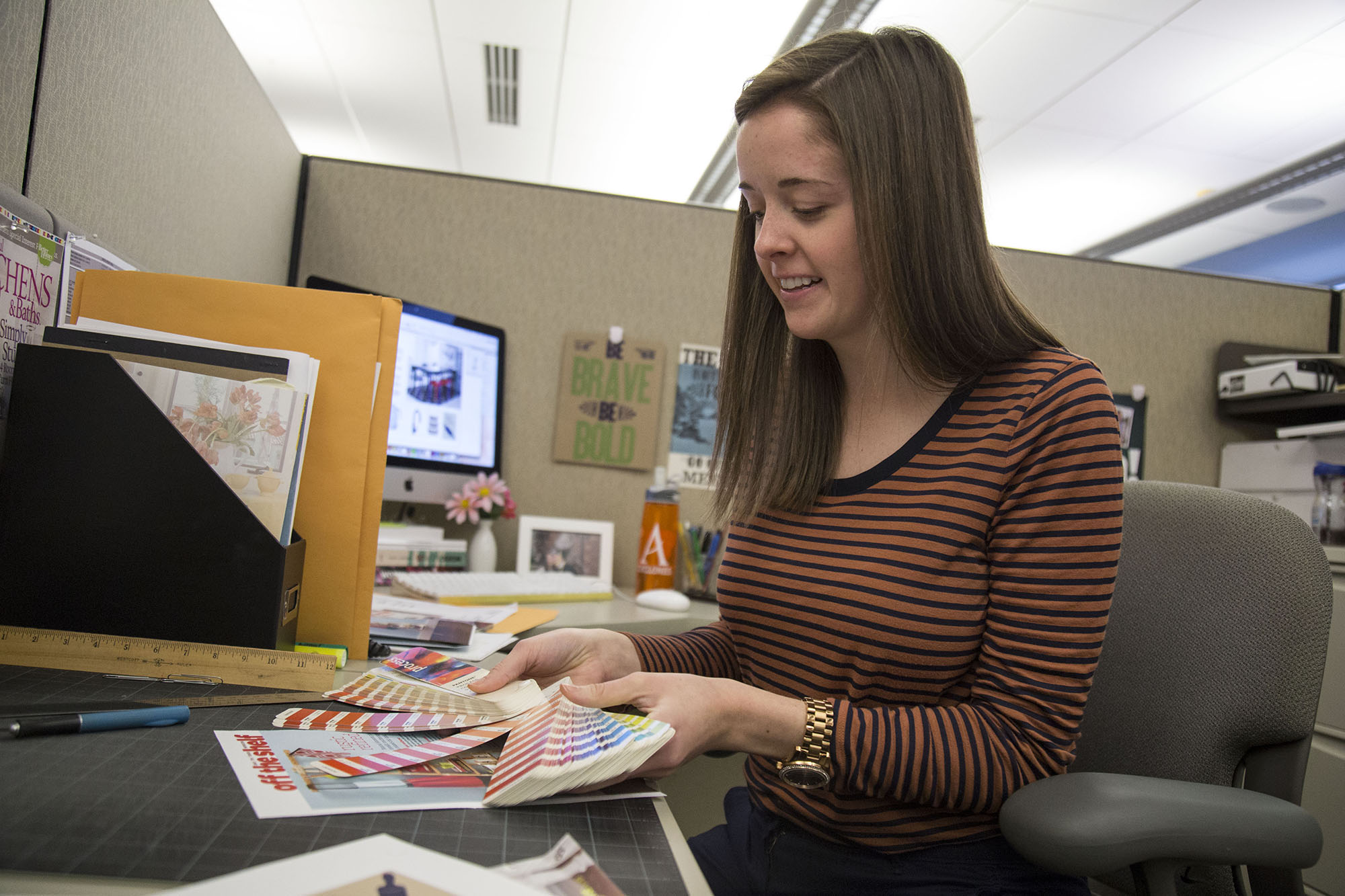 "It was the most hectic semester I've ever had, but at the same time I've grown so much from it because I've been able to practice balancing out my schedule and making sure I have time to spend with my family, in addition to all the demands of work and school," Tull says.
The work that she does at Kraft holds special significance to Tull, who fell in love with food writing after marrying her husband and deciding she wanted to learn how to cook. Her learning didn't happen from reading cookbooks; magazines, websites and food blogs provided Tull everything she needed, including a drive to pursue work producing similar content that taught her to navigate the kitchen.
"I kind of just fell in love with the style of it — the punny, the witty, the playful style of it — and getting to try my hand at writing it has been such an incredible experience," Tull says. "I can't imagine having a year that has better prepared me for a career than this one has so far."
Now in its 11th year at Iowa State, the program boasts a distinguished group of alumni who work in all areas of communications and other industries. "I can safely say that Meredith Corporation has changed the lives of many of our graduates and enriched them," says Greenlee School Director Michael Bugeja.
"It's been a really great partnership on both ends and at the end of the day the bottom line is that we're preparing these students for the next stage of their lives," Slusark says.