Walking through Hamilton Hall on Wednesday, Oct. 29, it was difficult to distinguish Greenlee students from the school's faculty and staff. In addition to the nine new professionals who joined Greenlee in 2014, students were dressed to impress the 34 company representatives who were on campus for the first Greenlee School Jump-Start Internship Fair.
There was a discernable buzz in Hamilton Hall the morning of the fair, says assistant professor Jan Boyles, one of the new faces in Hamilton Hall as of August. Students were asking faculty members to look over their résumés, what they should expect from the fair and what to say to employers.
"There was certainly some positive anxiety among students," Boyles says.
The fair was the culmination of the school's first Jump-Start series. For those who didn't wait until the last minute to prepare, the Jump-Start series also included two workshops in the weeks leading up to the internship fair. One session focused on résumés, cover letters and networking and the other was titled "Intern Etiquette 101," and focused on problems reported from past internship supervisors and common workplace scenarios.
> "This is part of a bigger project to make sure we are connecting with the top communication industries in Iowa and making sure our students are well prepared to have the job skills and meet the employment needs for those companies," said Joel Geske, associate director.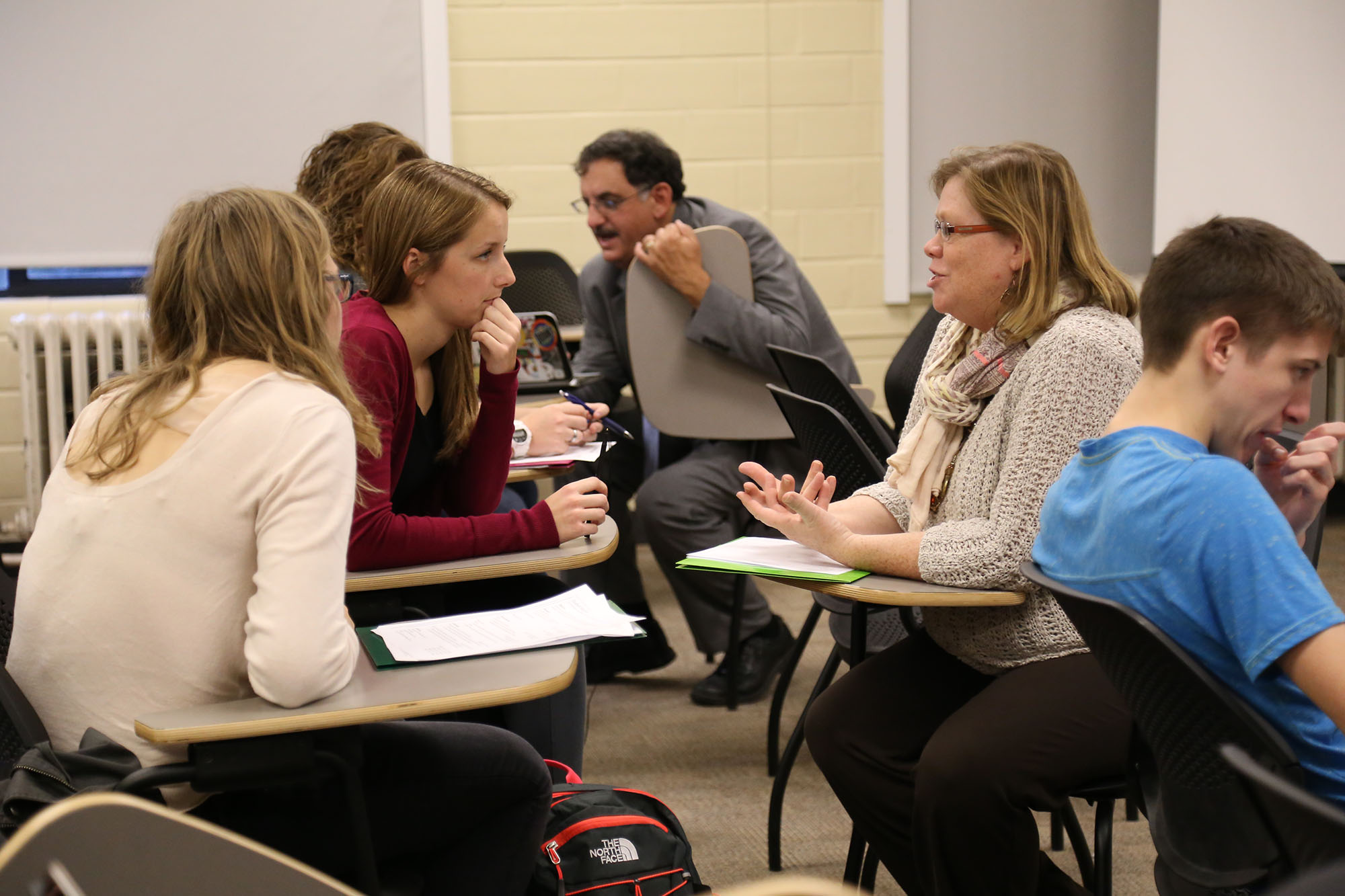 Juli Probasco-Sowers, the school's new internship coordinator, developed the Jump-Start series to help prepare students to take on their required 400-hour internships and leave Greenlee as prepared young professionals. Providing students with more tools to find internships was one of her main tasks in her new position. The fair allowed Greenlee students to build connections with local employers, who they may not have considered for job opportunities without having the chance to discuss the positions employers had to offer.
"We were very pleased with the number of companies that were excited about coming," Probasco-Sowers says. "The internship fair and workshops are ultimately meant to help students go out into the real world and get a full-time job. Until students get out there and work they don't realize how different it is from the classroom, how they can apply what they've learned or what else they need to learn before graduating."
Students' preparations paid off. Employers like Scott Sailor, director of logistics for the Iowa Cubs, left the Greenlee School's first internship fair impressed. "Students presented themselves well, they all took it seriously, they all asked the right questions and proceeded to judge whether they wanted to pursue something with the Iowa Cubs or if somewhere else might suit their major or career goals better," says Sailor.
Sailor made sure to bring a magazine on his iPad in case he had some downtime, but was pleasantly surprised that he met with students throughout the entire fair. He left with 47 résumés from students interested in the company's communications internships. The Iowa Cubs weren't the only ones who found interest in their positions. Booths for employers like the Des Moines Social Club and Hy-Vee had lines throughout the four-hour fair.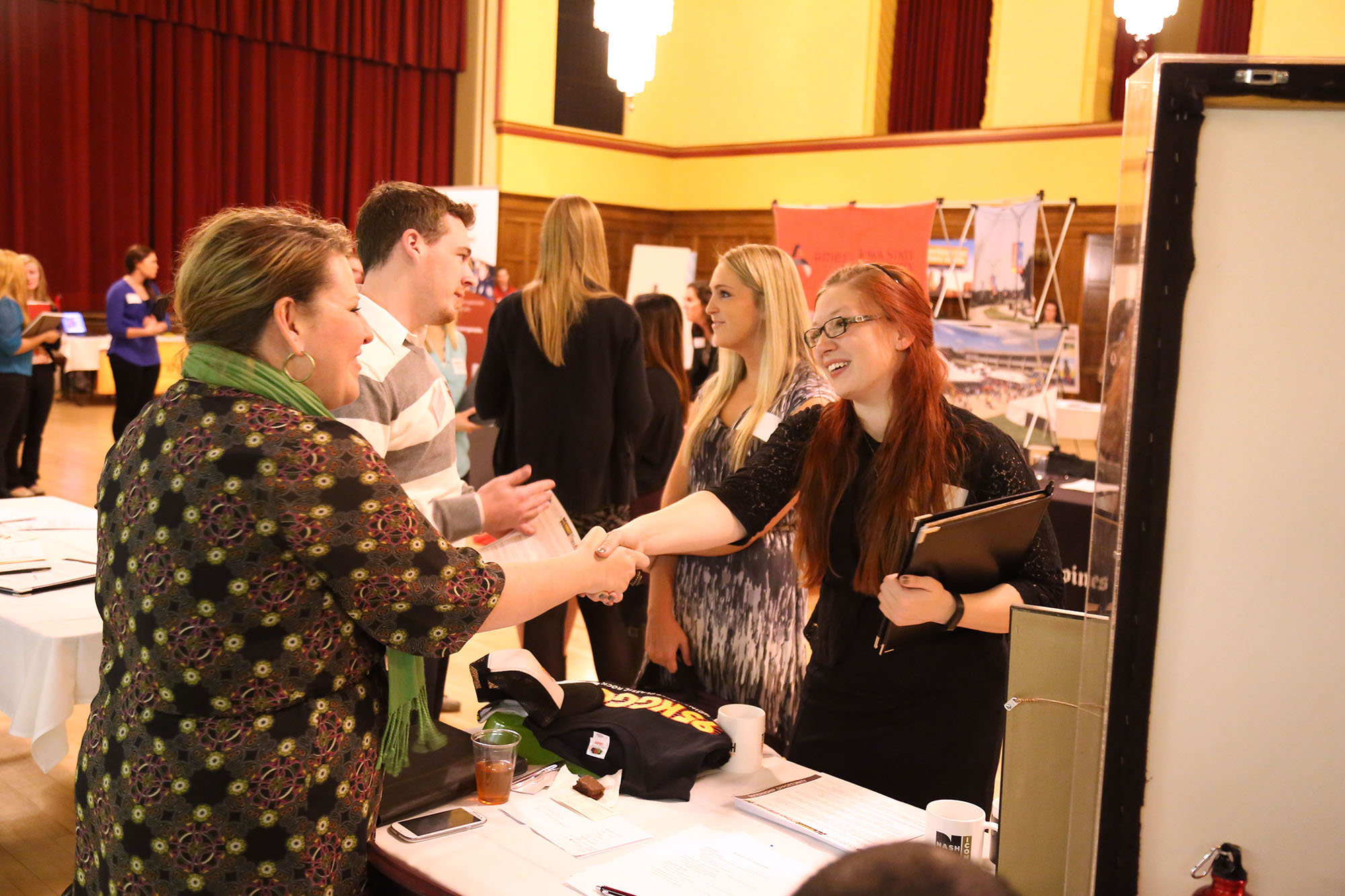 Cyndi Pederson, chief operating officer for the Des Moines Social Club, found herself still talking with students as Memorial Union workers dismantled the Great Hall around her. "I visited non-stop with 50 students in 4 hours," says Pederson.
Since the fair, she's hired eight Greenlee students to assist with promoting the relatively new arts and entertainment venue in downtown Des Moines.
Employers weren't the only ones who were impressed by the Jump-Start Internship Fair. Students like Robert Mercer, senior in advertising, found the inaugural Jump-Start series helpful in preparing for and finding a 400-hour internship. After transferring into Greenlee, Mercer says he was a little overwhelmed by the idea of finding an internship.
"When I first started as a Greenlee student, I had no idea where I was going to start looking for internships," Mercer says. "The series really helped me get going and start up with my portfolio and résumé in the Greenlee School."
After attending both workshops and then the internship fair, Mercer has maintained contact with a couple employers. He's kept in touch with the Iowa Special Olympics and may intern with them over the summer. He is also planning to schedule a job shadow with the Integer Group this spring.
With the Greenlee School experiencing a 30 percent growth in the last three years, Joel Geske, associate director, says that programs like the Jump-Start series are important, as they assist students in finding quality internships that they can use for their professional internship capstone course.
"This is part of a bigger project to make sure we are connecting with the top communication industries in Iowa and making sure our students are well prepared to have the job skills and meet the employment needs for those companies," Geske said. "We really wanted to have a smaller first-year run to make sure it worked well."
In the future, Geske and Probasco-Sowers hope to expand the fair and bring in employers from larger surrounding cities like Kansas City, Chicago, Minneapolis and Omaha to foster more connections for students outside of Iowa.
> If your company would like to participate in future Jump-Start Internship or Job Fairs, please contact Juli Probasco-Sowers, internship coordinator, at julip@iastate.edu.