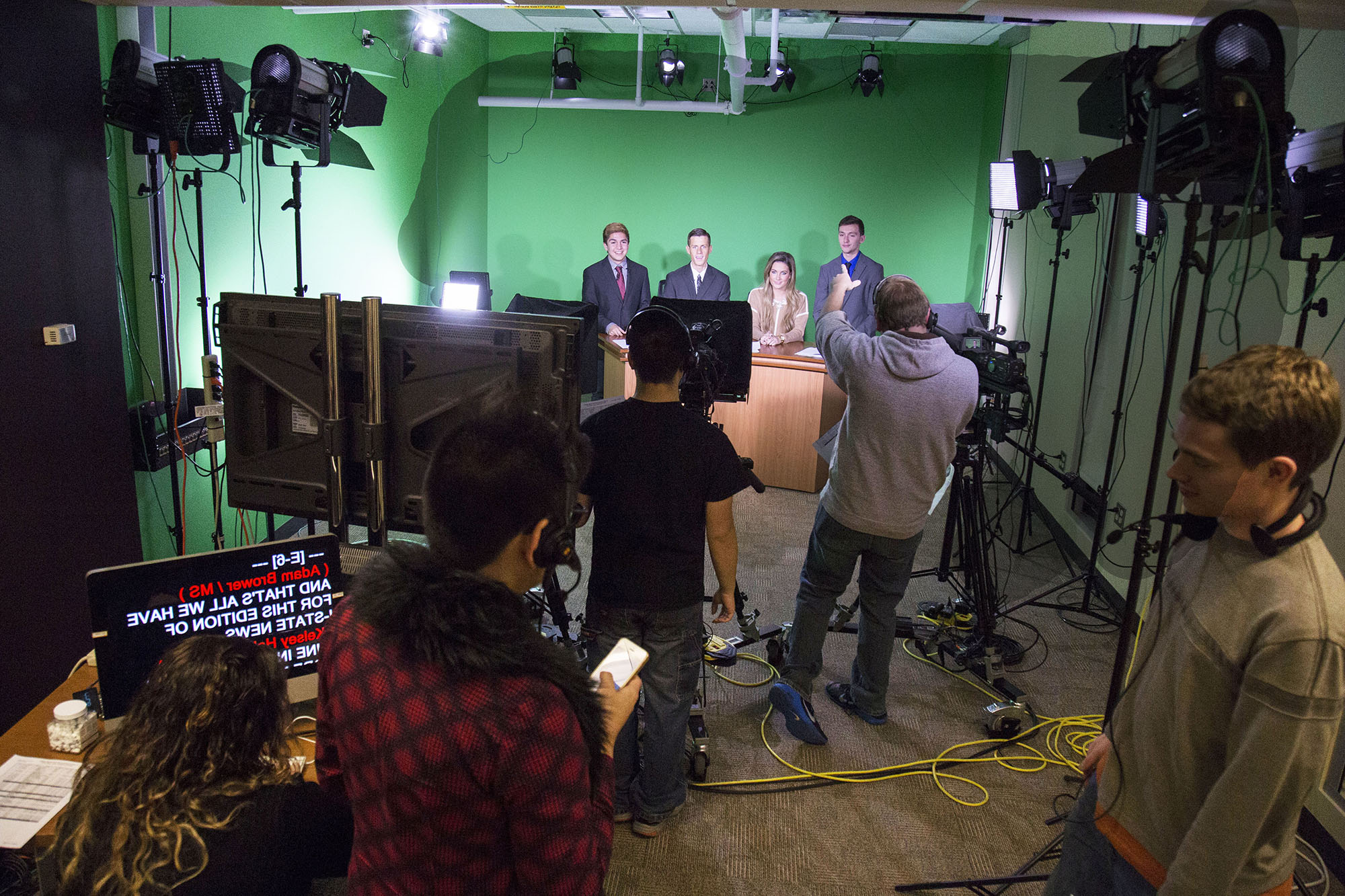 Hamilton Hall 171 used to be lined with shelves of newspapers, books and magazines and anchored by chairs with matching iPads. It was quiet, punctuated only by the clicking of an iMac keyboard and the occasional sigh of a befuddled student.
Now, the room's vibes shake.
"Jeff, where's the package?" a student barks.
"We're on air."
Hamilton Hall 171 has been revamped into a multimedia newsroom and is now home to ISUtv.
When 171 was still a reading room, ISUtv taped broadcasts across campus in the Communications Building, a nondescript location hidden between the Armory and Roy J. Carver Co-Lab. The team felt isolated from the rest of Greenlee, and their work was slowed down by unreliable IT support.
"We were often left scratching our head," Raluca Cozma, ISUtv's faculty adviser, recalls.
Faculty campaigned to move the studio to Hamilton. After an equipment change, a renovation from scratch and a few months of hard work, 171 became a combined newsroom and news studio.
Along with high-definition equipment, the new space received the help of Greenlee's in-house IT professional Shane Scherschel, who helps keep everything running smoothly.
Christopher Cox, '13, spent many hours taping in the Communications Building as a former anchor for ISUtv. The move to Hamilton was a welcome change for Cox and his colleagues.
Cox believes the new location promotes a sense of unity for the program. Cozma agrees, and credits ISUtv's increased enrollment to the new location and new opportunities for students interested in electronic media. With the newsroom right in the hub of Hamilton, it becomes alluring to passersby.
Freshmen lugging backpacks to the introductory JL MC 110 course are more likely to get involved with ISUtv.
"It's refreshing," Cozma says, "to have young, untapped talent in the newsroom."
The merged newsroom and news studio mimic a real-world setting. As broadcast grows and shifts, combined multimedia efforts are becoming ubiquitous.
Greenlee lecturer Jeff Ames teaches a video production class in 171. He believes the new room gives students hands-on experience in producing, directing and creating live TV, especially for post-grads.
"News operations always have, and always will, want journalists with the skills, ability and knowledge to find stories, write, report and pull broadcasts together," Ames says.
While Room 171 is still a work in progress, Ames, Cozma and Cox are optimistic for the newsroom's future.
"I'm glad we had the funding from our alumni and the college to be able to get the equipment we did. And I know that there are big plans in store for how we can keep moving upward in quality, both of education and in practice," Cox says.