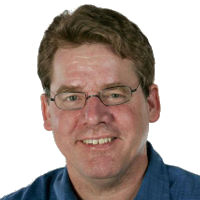 As you enter the Kansas City Star's newsroom, take a right past the Octagon of Knowledge, (employees call it the "Ook,") and through a maze of cubicles to find Rick Montgomery among 3-foot piles of notes and letters.
Montgomery, a Star feature writer, is a traditional journalist. There are a couple coffee-stained reporter's notebooks all around him and it's hard to find his computer desktop. He's on the phone, talking to a source, who one might assume is a friend.
In a short period of time Montgomery has gotten to know a source to the point where she feels comfortable enough to talk to him about teen pregnancy for a Sunday centerpiece story he's working on. He sets his square-rimmed glasses on his desk and jots down some notes.
Montgomery doesn't use a recorder like most journalists do these days. He never hasand probably never will.
"I've been doing this for, what, 40 or so years? And I've never had a complaint about misquoting someone before," the Des Moines native said.
After hanging up the phone, he swivels around in a worn-out black chair that's faced his desk for a decade or so. He stuffs a couple loose papers and a reporter's notebook in a tan accordion briefcase and tucks his smartphone into the back right pocket of his faded jeans.
It's all in a day's work for Montgomery, who graduated in journalism from Iowa State University in 1982. After a short stop at the Quad City Times, he landed his current position at the Star.
"It sounds really simple, but I like doing stories that are interesting," Montgomery said. "Why do something that's boring? I like doing stories that are fun."