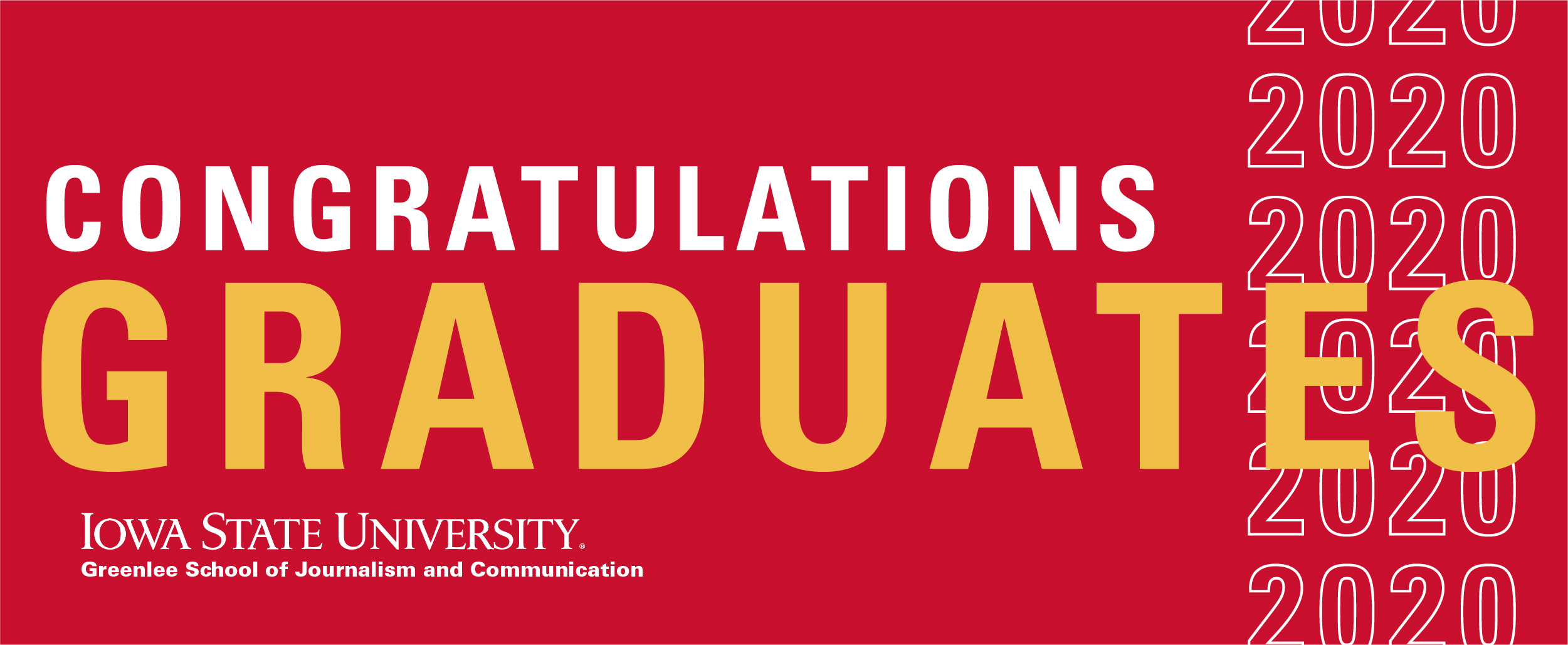 Congratulations, graduates!
The faculty and staff of the Greenlee School of Journalism and Communication created a special video message for spring and summer 2020 graduates. We're proud of you, we'll miss you and we wish you well in all your future endeavors. Wherever your adventures take you, remember there are #CyclonesEverywhere. You'll always be part of the Greenlee School family! #WhyGreenlee
---
LAS Convocation
Join us in celebrating the LAS Spring and Summer 2020 graduates during the LAS Convocation Watch Party! At 7 p.m. on Friday, May 8, the LAS Spring 2020 Convocation video will go live on the LAS Convocation website. Check back then to watch the special video that will include messages from Dean Beate Schmittmann, a student marshal and LAS Spring 2020 graduates!
---
Iowa State Virtual Commencement
Iowa State University's Spring 2020 virtual commencement ceremonies will be available on-demand beginning at 10 a.m. CDT on Saturday, May 9, 2020, on this webpage: graduation.iastate.edu. President Wintersteen and campus leaders are excited to bring the pomp, circumstance and Iowa State commencement traditions to you wherever you may be in Iowa, the country or around the world. Please see the President's message for more information.
---
Take the LAS Career Services Survey
---
Spring 2020 Graduates
Annebeth Ahrenholz (P R)
Miski Ahmed (JL MC)
Hailey Allen (JL MC)
Nady Aly (JL MC)
Carter Anderson (ADVRT)
Paige Anson (JL MC)
Kiera Bauer (P R)
Natalie Beauchaine (ADVRT)
Emily Berch (JL MC)
Kiana Brincks (P R)
Latece Buford (P R)
Kathryn Burns (P R)
Krishaun Burns (P R)
Nathaniel Byerly (ADVRT)
Amina Cannie-Hall (ADVRT)
Matthew Carlson (JL MC)
Shin Cho (JL MC)
Caroline Claxton (P R)
Kyle Cravens (JL MC)
Adam Cron (JL MC)
Andrea Dahl (P R)
Christina Do (P R)
Emilee Drost (ADVRT)
Jordyn DuBois (JL MC)
Maxwell Dugan (ADVRT)
Grace Ekema (P R)
Rachel Feikema (P R)
Rachel Frazier (P R)
Hannah Fuller (P R)
Kobe Gaines (JL MC)
Danielle Gehr (JL MC)
Macy Gilliland (P R)
Brooke Ginsberg (P R)
Stephen Gould (ADVRT)
Brittani Gregorich (P R)
Mathew Grisham (JL MC)
Avery Grundy (ADVRT)
Jordan Hamann (JL MC)
Olivia Hanson (JL MC)
Sidney Hardy (P R)
Alicia Hauglie (ADVRT)
Sarah Hays (JL MC)
James Heinrichs (JL MC)
Sarah Henry (JL MC)
Kerry Hermann (ADVRT)
Lydia Heydlauff (ADVRT)
Dylan Hicks (ADVRT)
Tanner Hinders (JL MC)
Jillian Itzen (ADVRT)
Carly Jacobson (P R)
Morgan Johnson (P R)
Taylor Johnson (ADVRT)
Bryce Jones (JL MC)
Christopher Jorgensen (JL MC)
Alexandra Kelly (ADVRT)
Celeste Rachel Ki (JL MC)
Haley Knudsen (JL MC)
Serena Knudson (JL MC)
Kylie Kost (ADVRT)
Erin Krage (P R)
Chase Kusel (P R)
Joshua Lamberty (JL MC)
Garret Lamp (ADVRT)
Jared Larson (JL MC)
Ashley Lees (P R)
Madeline Leopardo (P R)
Michael Leopardo (P R)
Madeline Lerum (P R)
Saige Linderman (P R)
Megan Lutz (P R)
Whitney Mason (P R)
Samantha McDaris (P R)
Maureen McDonald (ADVRT)
Rachel Meehan (P R)
Abigail Nelson (ADVRT)
Erin Nilsson (P R)
Hannah Noble (P R)
Jonathan North (ADVRT)
Rachel O'Brien (JL MC)
Cassandra Olesen (JL MC)
Benjamin Olson (JL MC)
Madison Pincombe (JL MC)
Hannah Quimby (P R)
Katherine Quimby (ADVRT)
Bryenna Raleigh (ADVRT)
Kevin Rambo (JL MC)
Mikenna Rodriguez (P R)
Molly Russ (P R)
Haris Saric (JL MC)
Ellie Schmit (P R)
Allison Schurr (ADVRT)
Lisa Schwarz (JL MC)
Riley Schwienebart (P R)
Hayley Sebahar (P R)
Joshua Shelledy (JL MC)
Claire Simmons (P R)
Benjamin Smith (ADVRT)
Madison Stano (P R)
Emily Staples (ADVRT)
Ian Steenhoek (JL MC)
Zachary Streuber (JL MC)
Claire Strickland (JL MC)
Madeline Swegle (P R)
Dylan Tejral (JL MC)
Joseph Thatcher (ADVRT)
Nichole Timmerman (ADVRT)
Grace Tobin (JL MC)
Anna Toot (P R)
Tatiana Trimble (JL MC)
Grace Tuzik (P R)
Davis Van Egdom (ADVRT)
Jacob Vos (JL MC)
Zhe Wang (JL MC)
Armin Ward (ADVRT)
Claire Weatherwax (P R)
Victoria Weir (ADVRT)
Sara Westerkamp (JL MC)
Leah Whaley (ADVRT)
Caleb Woods (P R)
Caitlin Yamada (JL MC)
Gabrielle Zeman (P R)
Matthew Zemlicka (ADVRT)
Spring 2020 Master's Program Graduates
Sharon Lynette Hernandez
Chelsea Marie Adams
Annie Vwananji Banda X
Summer 2020 Graduates (updated 4/16/20)
Elizabeth Blashford (ADVRT)
Adam Borisenko (JL MC)
Julissa Garcia (JL MC)
Alexander Gray (P R)
Briar Jensen (ADVRT)
Brock Johnston (P R)
Sebastian Krembuszewski (P R)
Kierstyn Krug (P R)
Brian Mackley (JL MC)
Adelaide Metcalfe (P R)
Marissa Prelgo (P R)
Noah Rohlfing (JL MC)
Austin Romanos (ADVRT)
Mikhail Shepperd (ADVRT)
Polina Shynkarenko (P R)
Merisa Spahic (ADVRT)
Jazlyn Talley (P R)
Laurel Tiedeman (P R)
Reilly Wingert (JL MC)
Kasmira Woodwick (P R)